1 dead, multiple injured in Texas shopping mall shooting
A robbery left one person dead, three others shot and another two people taken to a hospital with non-shooting injuries
---
Associated Press
SAN ANTONIO — A robbery inside a San Antonio shopping mall ended with shots fired on Sunday, leaving one person who tried to intervene dead, three others shot and another two people taken to hospital with non-shooting injuries, police and fire officials said.
Police Chief William McManus said two suspects robbed a jewelry store at the Rolling Oaks Mall on Sunday.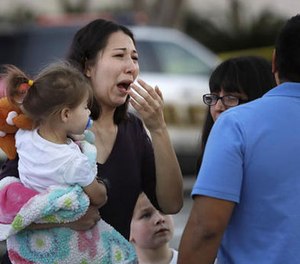 "What we have here is a robbery gone really, really bad," McManus said.
After the suspects fled the store, a man, described by McManus as a "good Samaritan" tried to stop the two men.
One of the robbers then fatally shot the man, McManus said.
A second individual, who was carrying a licensed concealed weapon, then shot and wounded the robber who had killed the person who intervened, McManus said.
Police said the second robber, who initially fled the scene, was arrested Sunday night. Additional details about the arrest or suspect were not immediately available.
McManus called the fatal shooting "absolutely senseless." The victim's name was not immediately released by authorities.
The other robber who fled the mall fired his weapon, injuring a man and a woman. These two individuals, along with the injured robber, were taken to local hospital, said San Antonio Fire Chief Charles Hood.
Two other people— a woman who complained of chest pains and a pregnant woman who had labor pains — were also taken to local hospitals, Hood said.
The condition of the people who were injured in the incident was not immediately available.
Helicopter surveying area. Man I interviewed says shooting happened outside of Dillard's. Everyone started running. Multiple shots fired pic.twitter.com/cm0UxI5vx6

— Alicia Neaves (@AliciaKENS5) January 22, 2017
Another man whose girlfriend is stuck inside said police told her there were 2 shooters involved. #kens5eyewitness pic.twitter.com/wdbDk1i5lV

— Sharon Ko (@SharonKoTV) January 22, 2017
ACTIVE SHOOTER: Rolling Oaks Mall employee helped people escape the Dillard's store, heard 6 shots, said the shooting happened 1st floor. pic.twitter.com/nMPlyUASI2

— Sharon Ko (@SharonKoTV) January 22, 2017
Allyson Hamby's daughter is still inside. She just showed me a text from her daughter which read "I'm scared" pic.twitter.com/KkvGp7cjzr

— Renee Santos (@RSantosTV) January 22, 2017
This is the scene outside Dillard's at Rolling Oaks Mall pic.twitter.com/Qzz6OlDEaq

— Renee Santos (@RSantosTV) January 22, 2017
More units responding to Rolling Oaks mall. Just spoke to a mother whose daughter is still inside pic.twitter.com/ZOZWlIdfC6

— Renee Santos (@RSantosTV) January 22, 2017
BREAKING NEWS: Active shooter situation at Rolling Oaks Mall. News4SA on the air now. pic.twitter.com/sDHc7pvLoq

— News 4 San Antonio (@News4SA) January 22, 2017
Copyright Associated Press. All rights reserved. This material may not be published, broadcast, rewritten, or redistributed.