2 dead, including suspect, after shooting at RI housing complex
The suspect was found dead in his room at an assisted-living complex
---
Martin Finucane, Ed Fitzpatrick, Dan McGowan, Alyssa Lukpat and Maria Lovato
MassLive.com
WESTERLY, R.I. — A gunman shot three women, killing one, and then apparently fatally shot himself at an assisted living complex in this seaside town, law enforcement officials said.
A 47-year-old woman was fatally shot, while a 38-year-old woman and 67-year-old woman were wounded. The first two women were employees of the facility, while the older woman was a resident, officials said at a media briefing at police headquarters.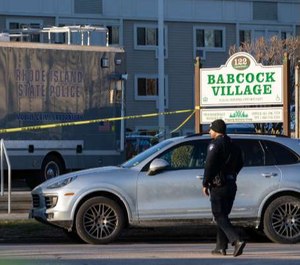 The 38-year-old woman is at Yale-New Haven Hospital in critical condition, while the 67-year-old woman was going into surgery at Rhode Island Hospital, said Westerly Police Chief Shawn Lacey.
The suspect, a 66-year-old man, was a resident. He was later found dead of an apparent self-inflicted gunshot wound in his room, Lacey said.
Schools in the town of 17,000 were locked down and nervous residents waited in their homes before the all-clear. The police chief, who could not remember the last homicide in town, said, "It's a shock to the community."
Police received a 911 call reporting the shooting at 10:32 a.m. and were on the scene at 10:35 a.m. at the Babcock Village development, Lacey said. Babcock Village is a three-story, "elderly-preferred" apartment complex, with 151 units, at 122 Cross St.
Lacey said police secured the building and then began reviewing video surveillance footage from inside the building. The video led them to a suspect. Tactical team officers from the Rhode Island State Police and Westerly police went to the suspect's room, where, with the help of a master key and a State Police robot, they entered and found the man had apparently shot himself.
The shooting of the three women took place in the general area of the facility's office, he said.
Lacey said, "We are familiar with the suspect ... His name is in our system," but he had no further details to offer.
The incident is being investigated by Westerly police and Rhode Island State Police.
"We are shocked and saddened that this tragedy has occurred," Property Advisory Group & Affordable Housing Strategies, Inc., which owns Babcock Village, said in a statement. "Our priority, as always, is the safety of our residents and staff. We are working with law enforcement to address this situation, and further questions should be referred to the Westerly Police and Rhode Island State Police."
Westerly's three elementary schools, middle school, and high school were locked down during the incident.
A parent on Facebook at one point asked, "Can parents come pick kids up!!"
School officials responded, "No, they cannot."
Around 1 p.m., school officials announced the lockdown had been lifted "per Westerly police."
Mary Ellen Pugliese, secretary at Westerly Hospital, said the hospital was locked down around 11 a.m. But the hospital website said, "Due to an incident in the #Westerly area, we are operating under a heightened sense of security, but remain open."
The Westerly Library tweeted it was also on lockdown.
Schools in neighboring Stonington, Conn., were also locked down, a secretary in the school department said.
Cross Street resident Georgia Olsen said Babcock Village is a huge facility in a residential area.
"Yes, I'm surprised," she said. "It's been quiet here. We haven't had problems."
Marjorie, a neighborhood resident who did not want her last name used, said, "I'm sitting in the house and I have everything locked. ... I'm nervous, of course." She said she often takes her daily walk around Babcock Village and called the neighborhood "very quiet."
"I'm waiting to hear that the person has been found. I will feel better then," she said.
Jacquelyn Smith, the parish administrator at Christ Episcopal Church, said around 12:30 p.m. that the church, which is three to four minutes away from Babcock Village, was on lockdown.
"There's so much anxiety," she said. " Since we are so close-knit and a lot of our pastoral care is for Babcock Village, we are anxious for our parishioners."
Babcock Village houses low-income elderly people, Smith said.
"Westerly is a really close-knit community," she said. "Since we're an ocean community, we have a lot of vacationers who have summer homes."
When the vacationers leave for the winter, Smith said, the population shrinks, and the remaining Westerly residents are "like a family."
When news of the shooting broke, she said, everyone jumped on their phones and alerted those in the community. Because the church does safe-church training, they imposed a lockdown as soon as the schools locked down, she said.
Westerly, which is on the border with Connecticut, is known for the easygoing summer fun of beaches at its southern end, including Misquamicut State Beach and the beaches in the Watch Hill section, where singer Taylor Swift owns an oceanfront mansion.
State Representative Samuel A. Azzinaro, who has lived in Westerly for all of his 76 years, said, "I don't ever remember anything like this happening in my life — nothing like this with locking down schools and streets and everything."
Azzinaro said his great-granddaughter was in a pre-kindergarten program about a half-mile from the shooting, and his granddaughter could not pick her child up because the school was on lockdown. Also, his son heard the police sirens as he worked as a carpenter in the area, he said.
"Everybody is in shock that this is happening," Azzinaro said. "Family and friends are texting me like crazy."
McClatchy-Tribune News Service