As mass killings rise, how can sheriffs keep guns from mentally unstable?
One in every 4 or 5 Americans is battling some form of mental illness
---
By Greg Gordon
McClatchy Washington Bureau
WASHINGTON — Before issuing thousands of permits each year for North Carolinians to buy handguns, sheriffs in Mecklenburg, Union and some other counties across the state have gone through an oft-futile exercise.
Relying on statutory language allowing them to ensure each gun owner is of "good moral character," they have submitted applicants' names to large health care facilities seeking to learn whether anyone was suicidal or otherwise mentally unfit to own a pistol.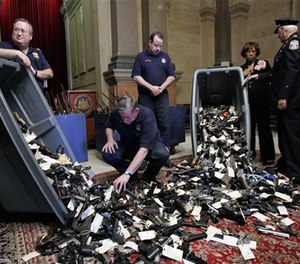 Under the 1968 federal Gun Control Act, the sheriffs' offices are entitled to know whether an applicant is disqualified from owning a firearm because he or she has been found by a court to be mentally ill, unable to manage his own affairs or a danger to himself and others.
But except for those seeking concealed carry permits, who have long been required to release their mental health information, sheriffs say the door has almost always slammed shut on disclosure of any further information.
For years, most requests for mental health information have been caught in a legal stalemate between law enforcement needs and health facilities' concerns about patients' privacy — a conflict that's a key part of the national debate over how to stem a seemingly endless spate of mass killings.
Recurring scenarios of heavily armed men — some possibly psychotic, firing randomly at defenseless children in Newtown, Conn.; nursing home patients in Carthage, N.C.; or parishioners in a Charleston, S.C., church — have left everyone from President Barack Obama to local cops grasping for answers. A number of the shooters in scores of mass killings had mental health problems, but still were able to legally buy guns.
Addressing the obstacles to keeping firearms away from mentally troubled people has emerged as an area of potential common ground among some stakeholders in the hard-bitten debate over gun control.
However, any attempt at compromises is sure to be complicated by thorny legal, ethical and political questions over how to balance mental health patients' privacy, Americans' Second Amendment rights to bear arms and the need to keep guns away from those posing a clear danger.
"We must continue to protect privacy," said Rep. Robert Pittenger, R-N.C., who wants to draft bipartisan legislation to improve the flow of information. "But there should also be enough room for law enforcement to be alerted to specific concerns about those with mental illness and have the opportunity to investigate and determine if further action is necessary."
The National Rifle Association, the nation's leading gun rights group, could be one obstacle. It takes the position that there must be "a formal process before stripping a person of a constitutional right" to own a gun, spokeswoman Amy Hunter said in a statement.
"We are troubled by any sort of broad 'suitable persons' standard … that gives a local official the discretion to determine ad hoc whether a citizen can exercise a constitutional right," she said.
Those kinds of concerns led the North Carolina state House of Representatives last year to consider whether to repeal the law providing for sheriffs to conduct a background check on pistol purchase applicants, rather than leaving it to gun dealers to check the FBI's nationwide databases. The House left the law largely intact, but limited sheriffs to looking at records over the past five years.
Health care facilities also are pushing back.
Campbell Tucker, the health privacy officer for Novant Health Inc., a regional health care network based in Winston-Salem, N.C., said its mental health patients undergo treatment "with the confidence their privacy is protected."
He said the medical group also "does not want to do anything to hinder individuals seeking appropriate treatment" for fear their confidentiality might be breached.
"Novant Health will comply with the laws and regulations regarding the confidentiality of patient information as leaders work to solve this sensitive and complicated issue," he said in a statement.
Mental health experts stress that mentally ill Americans account for only about 4 percent of violent crimes.
Data over the past quarter century has increasingly raised red flags suggesting too many unstable people have easily obtained guns — and not just to harm others. For example:
—Of more than 30,000 annual gun deaths, over 20,000 are suicides.
—A 2013 FBI study found that, in a set of 160 active shooter events in which lone perpetrators took 486 lives since 2000, 64 ended with the assailant killing himself.
—In a number of the worst mass slayings, including the 2007 murders of 32 people at Virginia Tech University and the 2012 shooting deaths of 26 people at the Sandy Hook Elementary School in Newtown, there were unheeded warning signs that the gunmen were mentally disturbed.
On Jan. 6, Obama tried for the second time in his presidency to impose measures to help keep guns from falling into the wrong hands with a set of executive actions that drew the ire of congressional Republicans.
He proposed to spend another $500 million on mental health care, and directed the Department of Health and Human Services to issue a rule making it clear that mental health facilities can report the names of patients who should be prohibited from buying a gun. He also called on the Social Security Administration to share with the FBI, for the first time, the names of people who've been judged incompetent to handle their retirement accounts.
Without the Social Security change, prohibited individuals are "able to pass a background check and purchase a gun illegally," said Jonas Oransky, counsel for Everytown for Gun Safety, a gun control group founded by former New York Mayor Michael Bloomberg. "Whenever records of prohibited people are not in the background check system, public safety is at risk, and it is nearly impossible to enforce the law."
In some ways, law enforcement officials deciding who gets to buy a gun are groping in the dark. It's not possible to track the changing mental states of millions of applicants to buy guns.
As Union County, N.C. Sheriff Eddie Cathey put it: "A background check is just a background check. It's not a mental health evaluation."
FBI Director James Comey has made multiple appeals to citizens to notify authorities if they observe ominous changes in someone's behavior.
North Carolina, along with 17 other states and the District of Columbia, requires a permit to purchase a handgun. Like most states, it allows purchases of rifles, including semi-automatics, based solely on an FBI background check delivered to a gun dealer. No background check is required in North Carolina for the private sale of rifles.
A new state law that took effect on Dec. 1, 2015, requires applicants for pistol permits to also sign a release authorizing clerks of county courts throughout North Carolina to reveal any confidential court orders "concerning the mental health or capacity of the applicant" to the sheriff deciding on the permit. But unlike a longstanding law covering applicants for concealed carry permits, the new statute does not require pistol purchase applicants to authorize release of their mental health records.
Cathey said in a phone interview that his office has for years gone through the motions of seeking information from mental health providers about every applicant to buy a gun, if only to protect itself from lawsuits alleging the background check was flawed. Last year, his office issued 4,181 pistol purchase permits and denied only 15 applications.
"We don't get any information" in response to the routine queries to three mental health facilities, said Cathey, in his 13th year as sheriff. "We've been checking as long as I've been sheriff."
Mecklenburg County Sheriff Irwin Carmichael said his office routinely checks with five mental health facilities, as well as seeking court records of mental illnesses and even scouring the logs of whomever sheriff's deputies transported to a mental health facility.
A Mecklenburg County sheriff's spokesperson said that, for concealed carry applications, health care facilities have occasionally released "a fairly encompassing report," sometimes detailing psychotherapy following a death or divorce — treatment that would not lead to a denial. If there's any doubt, the sheriff's office denies the application and lets a judge decide the matter on appeal, the spokesperson said.
A bigger problem is that state law requires the sheriff to decide whether to issue a permit within 14 days. But now that all pistol purchase applicants must release their health information, a legislative oversight has contributed to lengthy backlogs. The legislature gave health facilities no deadline to respond.
Not every sheriff's office agrees that the clause affording them the right to ensure each gun buyer is of "good moral character" gives them legal authority to ask mental health facilities to share patient data. Wake County Sheriff Donnie Harrison's staff, for example, only checks with court clerks for judgments that a person is mentally ill or a danger to himself or others.
"There's no going to mental health facilities," said Sgt. Mike Fleer, head of the office's records and permits section. "There's nothing in the statute for a pistol purchase permit that requires any mental health facility to provide us any information."
But Eddie Caldwell, executive vice president and general counsel for the North Carolina Sheriff's Association, said in an interview that the clause allowing sheriffs to ensure that each gun buyer is of good moral character "is a very helpful tool for the sheriffs" to evaluate applicants who may be suicidal or battling other mental health issues.
Where the issue gets tricky is when information that falls short of the longtime threshold of a court adjudication to disqualify a purchase still might, if shared, enable authorities to prevent violence.
Exceptions in the 1968 law allow other pertinent information to flow to law enforcement officials who are deemed "reasonably able" to prevent or lessen a serious threat to an individual or the public.
But a 1996 health care law laid out penalties for anyone breaching a medical or mental health patient's privacy, and Congress toughened the fines in 2009 to as much as $50,000 for each violation.
Cathey said he finds that hospitals and other providers "hide" behind the privacy provision in refusing to impart information about gun applicants. "It's like you run into a wall all the time," he said.
While serving as president of the National Sheriffs Association, Democratic Sheriff Paul Fitzgerald of Story County, Iowa, joined in a White House roundtable on Jan. 28, 2013, in the aftermath of the slaughter of 26 people at Newtown's Sandy Hook Elementary School.
Fitzgerald said attendees, including Obama, Vice President Joe Biden and then-Attorney General Eric Holder, gasped as he described being unable to obtain any information about a man who had relocated from a nearby county and whom an FBI background check flagged as having "suicidal tendencies."
When Fitzgerald told aides to deny the permit, he said, his staff advised that under a new Iowa law he had to put in writing the detailed basis for the denial. Calls to the neighboring sheriff's and county attorney's offices yielded a warning that "you shouldn't be issuing this guy a permit," but no details of mental illness, he said. Ultimately, the Iowa Department of Public Safety said there were no grounds to deny the permit.
"Why hospitals who have confidential records cannot share pertinent, potential life-saving information with public safety people who are also bound by standards of confidentiality, I don't understand," Fitzgerald said in an interview. "That's something that needs to be changed."
One in every 4 or 5 Americans is battling some form of mental illness, said John Santopietro, chief clinical officer of behavioral health for the Carolinas HealthCare System.
"We have an awful problem in this country with respect to mental health treatment," Santopietro said in an interview. "Of all the people with mental illness, we only treat 40 percent of them. What you see day to day, most of them are getting bounced around in a disjointed treatment.
"If you said, 'How many people are getting better because of the treatment we're giving them?' Five to 10 percent."
While mentally troubled young men who slipped out of treatment or never got any have been among the mass shooters, data shows that people with mental illnesses commit only 4 percent of violent crime, Santopietro said.
Of greater concern, he said, are suicides.
"A lot of our research shows that the final decision for people that make suicide attempts happens in a very short period of time," Santopietro said. "And the availability of means (a gun), how close it is to them, has an impact on whether there's a suicide."
He pointed to 2010 data from the Centers for Disease Control and Prevention indicating that states such as Wyoming, Alaska and Montana, which have the highest rates of gun ownership, also are among states recording the most suicides.
One problem may be that people aware they may not pass background checks can avoid them altogether by buying one of the estimated 300 million used guns already in Americans' possession. They're still required to obtain a permit for purchase of a used handgun in North Carolina, but it's tough to track those who flout the law.
"Why look at new firearms sales?" asked Timothy Ramsey, a retired police officer who owns Northlake Firearms in Charlotte. "You can buy one on the secondary market so easily."
Sheriff's offices lack authority to look at private deals, but Sheriff Carmichael said his staff turns up much more information on pistol permit applicants than shows up when it requests an FBI background check.
"We want to get all of this information automated, with all the mental health facilities nationwide, so that we're able to access it," he said.
"It's about having guns in the right people's hands."
Copyright 2016 McClatchy Washington Bureau
McClatchy-Tribune News Service