Suspect dead in attack on Texas PD
The attempted assault on Texas police by 29-year-old Patrick Gray Sharp included an improvised explosive device, an "assault rifle," a shotgun, and a .45 pistol
---
In a suburban city some 30 miles north of Dallas, a heavily-armed gunman reportedly set his vehicle ablaze, screamed in the direction of a police station, ran into a nearby wooded area, and opened fire. That attacker, who has been identified as 29-year-old Patrick Gray Sharp, is now dead. It was not immediately clear whether the suspect was shot by police or died from a self-inflicted wound, but the Collin County Medical Examiner said the morning after the incident that Sharp died from a self-inflicted gunshot wound to the head.
The attack took place at the McKinney Public Safety Building, which houses administrative offices for the police and fire departments, and serves as the city's police station. McKinney PD sent out word shortly after 0930 local time that the department was under fire.
"Suspects possibly set truck on fire to draw people out of building," the message said. "Used semi auto rifle to shoot out front of building."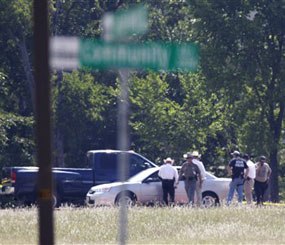 That initial department transmission stated further that one suspect was down, with a possible second suspect "unaccounted for."
Nearby Schools on Lockdown
Not far from the scene of the shooting are several schools run by the McKinney Independent School District.  One school — Vega Elementary — was conducting teacher training and was placed on lockdown after word of the shooting was circulated. No students were reportedly present at the time.
Meanwhile, the Collin County Community College District placed its central campus on lockdown, using the institution's emergency alert system to send out an email to the 3,800 students enrolled at the two-year school.
"CougarAlert: Shots fired," it read. "Campus on lockdown. Cops on the scene. Details to follow."
Classes begin Monday for the Collin Cougars, so at the time of the armed assault on the nearby police station, some 300 students and staffers were on campus for class registration and other matters. Although the campus lockdown had been lifted, as of about 1400 local time Tuesday, students were still not allowed back on the campus. According to a press release issued by the college, "No students, faculty, or staff were injured," despite the fact that a number of rounds from the shooting entered a Central Park Campus building.
Was the Fire Bait for a Firefight?
It was not immediately known whether the Ford F-150 pick-up truck — which was pulling a trailer — was intentionally set alight by the shooter, or the fire was an accidental outcome of ammunition being touched off by the gunfight. One report said that the vehicle was engulfed in flames "immediately after the man exited" while other reports indicated a time lapsed between the start of the incident and the fire.
One witness told a local radio station that the gunman was wearing body armor at the time of the attack. Another witness told the Dallas Morning News  that the Tuesday morning active shooter incident "sounded like the Fourth of July."
During an afternoon press conference held by officials from the City of McKinney, McKinney PD spokesperson Scott Brewer, when asked if the assailant wanted to lure officers into an ambush outside of the building, replied, "It's plausible. I don't want to speculate."
One thing is certain: setting off a truck full of ammunition is one way to get a whole bunch of cops to come roaring out of that building. That noisy commotion in and of itself, however, is not particularly dangerous. Plastic shotgun shells, for example, tend to melt and burn rather than explode.
My friend (and PoliceOne Firearms Columnist) Dick Fairburn explained further, "I started out my career as a firefighter, and I've been in fires where ammo was cooking off. Essentially, though the cooking off rounds certainly does get your attention, the danger is very low if you're a few feet away from the round when it cooks off. The bullet only achieves significant velocity when the cartridge is contained inside a weapon's chamber when it goes off. When a cartridge fires in the open due to fire, the brass case splits open, venting pressure long before enough pressure builds to 'launch' the projectile more than a couple of feet. If it goes off in your hand or right next to you — a minor injury, nothing more. One exception might be a big round like a .50 BMG. I once had a .50 BMG go off near my partner and me in a house fire — that was a pretty loud, dull boom. The round split at the shoulder, but we never found the bullet."
McKinney PD Stops the Threat
The shooter himself represented the real danger, and thanks to the great work of McKinney PD — a force of roughly 170 sworn law enforcers — Sharp will never again pose a threat to the people of McKinney. Despite being armed with a semi-automatic AR-15, a .45 semi-automatic pistol, and a shotgun, the gunman did not survive his attempted attack on the McKinney Public Safety Building.
According to reports, at least a half dozen officers from McKinney PD responded to the shooting — doing what cops do, moving toward the sound of gunfire — with at least two returning fire. Whether or not it was an officer's bullet or a suicide round from Sharp's own gun was not immediately known, but some were already speculating late Tuesday that the attack was a suicide by cop.
McKinney Police Chief Kowalski said during an afternoon press conference, "I really think this is a clear case of suicide by cop."
The theory of SBC is a good one, particularly after considering some of Sharp's last "status" updates on the social networking site Mocospace, reportedly including statements like "I'm out for good y'all, [expletive] all my haters," and "My last meal was White Castle cheeseburgers and a Dr Pepper."
Plenty of Firepower in Evidence
Lt. Mark Moyle of the McKinney Police Department said late Tuesday afternoon in an exclusive interview with PoliceOne that as part of the initial investigation, the department sent officers to Sharp's home in the town of Anna, some 15 miles north of McKinney, and "discovered a large cache of weapons." Lt. Moyle confirmed that the gunman's trailer was loaded with wood chips and road flares, although he did not specifically confirm reports from CNN and AP that the trailer also contained gasoline and ammonium nitrate fertilizer.
The incident, which Moyle said lasted about five minutes, is being investigated by McKinney PD, Texas Department of Public Safety, Collin County Sheriff's Office, Collin Community College Police, as well as ATF and the Plano (Texas) Bomb Squad.