Training Day: Norwood PD active shooter response
All sworn personnel were required to participate, with ranking officers randomly mixed into each team
---
If you would like PoliceOne to profile your police training day, email photos and a description of your training and lessons learned to editor@policeone.com.
By Chief William G. Brooks III
Most families probably view school vacation as an opportunity to go on trips or hang out at home, but for Norwood Police Department (NPD) officers, summer is a time to use the local high school to hone their active shooter response skills. 
The NPD was broken into groups of six or so officers for each block of training. Training staff started each day with classroom reviews on formations, room clearing, "slicing the pie" and muzzle discipline. Then each group was presented with a scenario, not on paper or from an instructor, but by a radio transmission by dispatchers also participating in the training. 
As officers navigated hallways and classrooms, they either received updated information – again by radio – relayed from "teachers" or encountered people in the hallways, sometimes friend, sometimes foe. Role players – some using blanks – added to the realism. (Note for agencies planning such training: having an on-scene safety officer and strict adherence to protocols is essential.)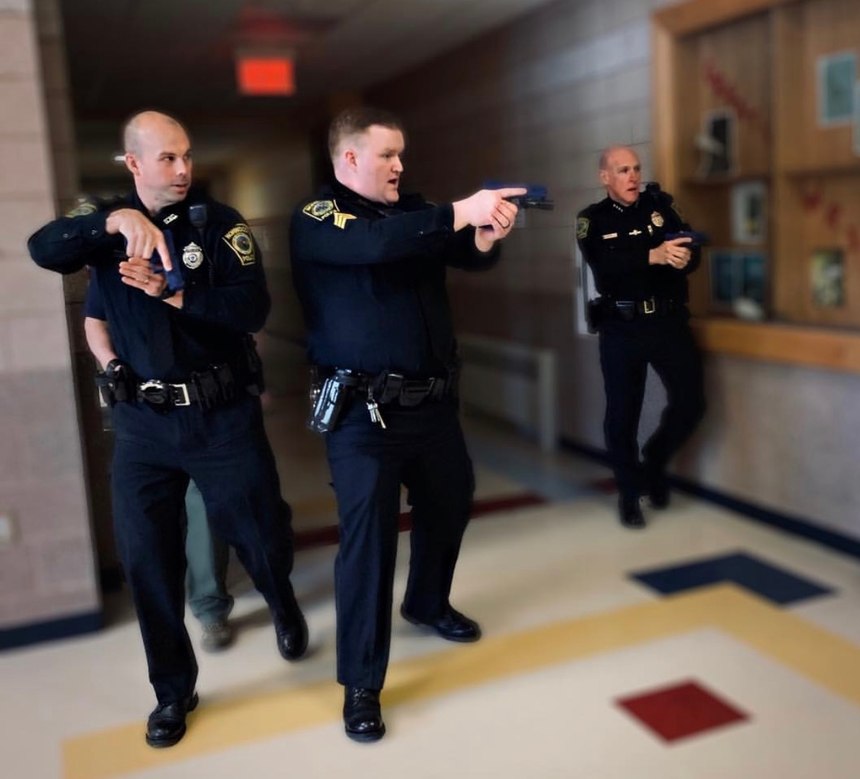 Given that an active shooter could occur under a variety of circumstances, all sworn personnel were required to participate, with ranking officers randomly mixed into each team. The photo above depicts Officer Brendan Sweeney, Sergeant Tom Carey and myself preparing to round a corner inside Norwood High School. 
Active shooters, especially in schools, are one of those call types you hope you never encounter, making it all the more important that you train for them. Agencies thinking about training like this should consider the following steps:
Get your school administration on board;

Ensure the building will be completely empty during the training, but post signage and caution tape anyway;

Draft scenarios beforehand that offer diverse and challenging fact patterns;

Inject stress and rapid decision-making into each scenario;

Debrief each scenario at its conclusion ensuring that all personnel, including dispatchers, participate. 
Police Trainer Tip: Include scenarios where the suspicious man is not a shooter, but rather an unarmed irate parent or innocent person. Every incident shouldn't end in deadly force.
ADDITIONAL RESOURCES ON ACTIVE SHOOTER RESPONSE TRAINING
---
About the author
William G. Brooks III is chief of the Norwood, Massachusetts Police Department and has been a police officer for 40 years. Bill was a member of the Supreme Judicial Court's Study Committee on Eyewitness Identification and is a member of the SJC standing committee. He also served on a committee at the National Academy of Sciences that issued the 2014 report "Identifying the Culprit, Assessing Eyewitness Identification." He presents nationally on behalf of the Innocence Project and has delivered presentations in 24 states. Chief Brooks was the 2012 recipient of the Innocence Network's Champion of Justice Award and received the Civil Rights Award for Individual Achievement from the International Association of Chiefs of Police in 2015. Chief Brooks served as president of the Massachusetts Chiefs of Police Association in 2016 and sits on the Board of Directors of the International Association of Chiefs of Police. He is a graduate of the FBI National Academy.