Ga. man arrested after shooting airborne police helicopter
The incident happened Wednesday as the helicopter was patrolling as part of the Georgia Governor's Marijuana Eradication Task Force
---
By Mike Morris
The Atlanta Journal-Constitution
TALBOT COUNTY, Ga. — A Talbot County man was arrested Wednesday for allegedly shooting at — and striking — a Georgia State Patrol helicopter.
The incident happened Wednesday as the helicopter was patrolling as part of the Georgia Governor's Marijuana Eradication Task Force, according to the FBI.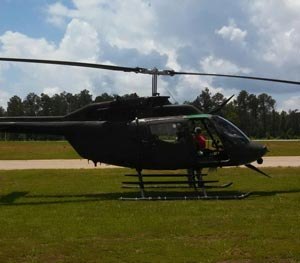 The helicopter crew, while operating near a home in Geneva, heard several gunshots and "observed an individual in what appeared to be a shooting stance," the FBI said in an email.
"The helicopter crew took evasive action, reported the incident to law enforcement on the ground, and then landed," the FBI said. "Upon inspection of the aircraft, it was determined that there was damage to the helicopter's main rotor blades."
Law enforcement units responded to the residence and found James Fryer, 59, "outside and visibly upset," according to the FBI.
Fryer was charged with destruction of aircraft. He pleaded not guilty Thursday morning before a U.S. Magistrate judge, the Columbus Ledger-Enquirer reported. According to an FBI affidavit, Fryer admitted to authorities that he fired a shotgun into the air three times when a helicopter was nearby, but he denied aiming at the helicopter.
Geneva is about 115 miles southwest of Atlanta.

Copyright 2014 The Atlanta Journal-Constitution
McClatchy-Tribune News Service