Fallen cop's 'miracle' child ineligible for survivor benefits
A New York state senator is looking to change the law
---
By PoliceOne Staff
BROOKLYN – A New York state senator is looking to change the state's law after the 2-year-old daughter of a fallen officer was denied survivor benefits twice.
According to PIX 11, although Angelina Liu is Detective Wenjian Liu's biological daughter, she doesn't qualify for survivor benefits because of how she was born.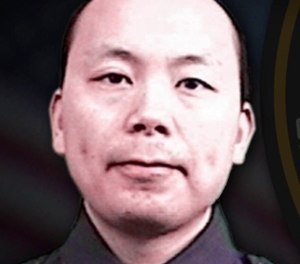 Wenjian Liu, along with fellow NYPD Officer Rafael Ramos, were shot and killed in an ambush attack in Dec. 2014.
Angelina was born July 2017 – nearly three years later – through in vitro fertilization. The detective's sperm was collected by emergency room doctors in the final moments of his life.
"We always wanted to raise and have a family," Pei Xia Liu, the detective's wife, told PIX 11. "She's a miracle because of science."
But Angelina isn't eligible for survivor benefits because she doesn't meet the definition of child for benefits under the state's current law. State Senator Andrew Gounardes is seeking to fix that.
"This would be ok if he [Wenjian Liu] had signed a consent form 7 months before he passed away," state Senator Gounardes told the publication. "There was no way to anticipate a situation like this. When an officer is shot down in the line of duty, and we have so few precious minutes to stabilize him or extract reproductive materials, the law doesn't deal with this situation adequately."