La. officer arrested after 18-mile, high-speed pursuit ending in fiery crash
Carlos Peralta, 53, faces counts of driving while intoxicated, aggravated flight from police and reckless operation of a vehicle
---
By Ramon Antonio Vargas
The Advocate
JEFFERSON PARISH, La. — Kenner police arrested a veteran New Orleans cop on allegations that he led them on a drunken, 18-mile car chase late Saturday night that exceeded 110 mph and culminated in a fiery crash after he drove over spike strips.
Carlos Peralta, 53, faces counts of driving while intoxicated, aggravated flight from police and reckless operation of a vehicle, jail records in Jefferson Parish showed.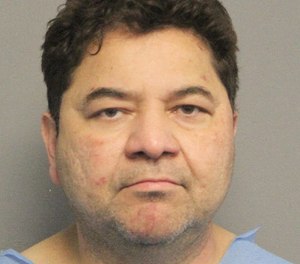 During the chase, he had a 15-year-old relative in the passenger seat who appeared to emerge physically unharmed.
After being treated at a hospital for unspecified injuries, the 22-year New Orleans Police Department member was jailed Sunday but posted bail and was released Monday.
New Orleans Police Superintendent Michael Harrison said Peralta has been suspended from his job.
"I have been very clear the NOPD does not and will not tolerate this type of behavior from our officers whether they are on or off duty," Harrison said. "We will not allow the actions of one to stain the significant progress this department continues to make as a whole to provide the citizens of New Orleans with a world class department."
According to Kenner Police Lt. Michael Cunningham, officers received a call about 11:55 p.m. Saturday that an apparently inebriated Peralta had created a disturbance at a pharmacy in the 800 block of West Esplanade Avenue because a clerk refused to sell him alcohol.
He sped away in a red Dodge Avenger that matched the description in an earlier call that reported a driver "swerving all over the roadway" about six blocks away, Cunningham said.
Cunningham said officers soon pulled the off-duty Peralta over into the parking lot of a Walmart in the 300 block of West Esplanade. But as officers approached the car, Peralta sped through the parking lot, pulled onto Loyola Drive, and began driving toward the lake, police said.
Police said Peralta drove "recklessly" throughout Kenner's University City subdivision — where he lives — in an apparent attempt to evade them. He eventually emerged on Loyola again and drove south toward Interstate 10, where he headed east at more than 110 mph, police said.
Peralta swerved in and out of traffic, forcing some cars to leave the roadway, police said. Eventually, State Police used spike strips to blow out Peralta's front passenger tire, prompting him to exit at Morrison Road in New Orleans East, according to authorities.
Peralta struck a curb on Morrison and momentarily left the roadway as his car ignited, police said. He finally pulled into a gated parking lot in the 5700 block of Morrison after flames engulfed the front of his car.
The teenage passenger immediately left the car. Peralta refused commands to get out, and officers had to pull him from the burning vehicle, police said.
Peralta allegedly was incoherent, smelled of alcohol and failed a field sobriety test.
Police booked Peralta into the Jefferson Parish jail in Gretna on Sunday, records showed.
Peralta has hired lawyer Eric Hessler to represent him. Although Hessler is an attorney for the Police Association of New Orleans, he said Peralta retained him privately.
Hessler said he had no comment on the case.
City records show Peralta joined the NOPD in September 1996 and worked in the 2nd Police District, which patrols Uptown.
At the time of his arrest, he held the rank of senior police officer, with an annual base salary of $60,000.
It does not appear the weekend was the first time Peralta had been accused of breaking the law.
A man with his name and date of birth was charged with second-degree battery in 2007 as well as second-degree rape in 2008 and 2010, Orleans Parish Criminal District Court records show. However, prosecutors dropped each of those cases, according to the records.
Peralta is one of at least three NOPD officers to have been arrested and suspended recently following allegations of driving drunk while off duty. Two members of the agency's child abuse investigations unit were arrested after separate Sept. 9 car crashes in New Orleans in which authorities said they found both officers to be intoxicated.
McClatchy-Tribune News Service