Police, EMS union disputing after paramedic bitten by patient
"This is what happens when police runs continue to be pawned off on EMS," a paramedic said on social media while recovering from a deep bite wound
---
By News Staff
DETROIT — A union is disputing with police over a response to a mentally ill girl after a paramedic was assaulted by the patient. 
The Detroit News reported that an EMS crew and police officers responded to a call about a 17-year-old girl who was being violent with her family and threatening to jump off of her roof.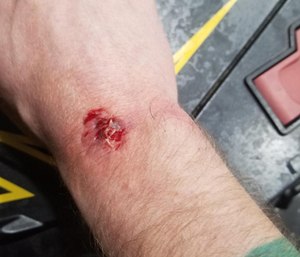 "The first responding unit developed a rapport with the woman and was able to talk her off the roof," Detroit Police Department Cmdr. DeShawne Sims said. "Medics were called ... after the medics arrived, (the officers) assisted the medics with getting the individual onto a gurney. She became combative, and officers and medics tried to get her restrained."
Police said the girl bit, kicked and spit on one paramedic, injured another and bit and spit on a police officer before she was restrained.
The paramedic who was bitten is currently off the job recovering from the incident, and he posted about it on Facebook under the pseudonym Daniel Joseph.
"So Monday night a 'patient' bit me to a point where I'm off duty until healed," the Facebook post read. "Police on scene didn't maintain control of her or the scene. As a result I got pinned between the stretcher and rig. Attempting to stop this individual from punching my partner, I got bit, spit in my face, and got a knee to the face … this is what happens when police runs continue to be pawned off on EMS."
Detroit Fire Fighters Association President Mike Nevin said police response was not fast enough, but DPD Lt. Joseph Tucker said "at no time were the EMTs at the scene alone."
"That's not even the point," Nevin said. "This is just more spin to try to make it sound like Detroit's public safety isn't broken. The issue is that the police didn't control the scene properly. Sometimes you need more than two officers on a scene. People are being mentally polluted to think it's OK to work these kinds of scenes with less people. It's not normal. The police should've maintained that scene, and two officers weren't enough."
Tucker told WXYZ that he reviewed body camera footage and "the scene was controlled from beginning to end."
"Backup, additional resources did respond. From what I could determine it was within a minute or so, not long at all. Several units responded. The scene was controlled from beginning to end. We actually take offense to the end of the statement that we pawned off runs on EMS. That's not fair to us."