2 Ark. men in ballistic vests arrested for shooting each other
The men were arrested in connection with aggravated assault
---
Kate Feldman
New York Daily News
An Arkansas man told police he had been shot multiple times in the back and chest through a ballistic vest while protecting an "asset."
Instead, it turns out, he and a neighbor were drinking and decided to shoot each other.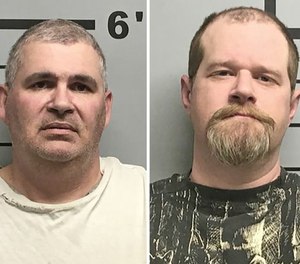 Charles Eugene Ferris, 50, and Christopher Hicks, 36, were arrested on April 1 in connection with aggravated assault, but have not been officially charged yet, according to the Northwest Arkansas Democrat-Gazette.
Ferris was taken to the hospital on March 31 after his wife heard a gunshot and saw a mark on his chest, according to a police affidavit.
He then reportedly told Deputy Dorian Hendrix that he had been shot five times in the back and once in the chest protecting an "asset."
At some point, though, Ferris changed his story and admitted that his neighbor, Hicks, had shot him in the chest with a .22-caliber semi-automatic rifle while wearing the bullet-resistant vest.
Hicks then put on the vest and Ferris fired five bullets into Hicks' back, according to the Democrat-Gazette.
Ferris was arrested after being released from the hospital and Hicks was arrested at his home.
———
©2019 New York Daily News
McClatchy-Tribune News Service