6-foot-3 man crams self into SmartCar, flees police after robbery
The suspect later hit two marked police vehicles with the mini vehicle and pinned an officer inside a third
---
Lauren Cross
The Times
GRIFFITH, Ind. — A 6-foot-3, 225-pound man reportedly crammed himself in a SmartCar to flee police who suspected him of robbing a cellphone store at Southlake Mall on Sunday, according to court records.
Antoine Beals, of Chicago, faces one count each of criminal confinement and theft, and four counts of criminal confinement, all felonies, records show.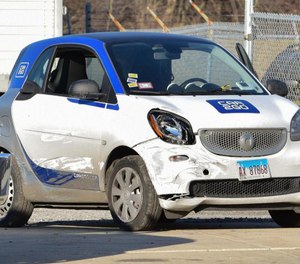 Hobart police were called about 1 p.m. to the T-Mobile store inside the mall for a theft, Gonzales said.
Beals allegedly cut security cords on four Apple iPhone cellphones on display at the T-Mobile storefront in the mall and fled the store with the stolen merchandise, according to detectives.
At about 1:04 p.m., Lake County dispatchers told police Beals was witnessed running around the J.C. Penney parking lot with a revolver and then entering a silver-colored rental SmartCar.
Police found the man's vehicle but the driver fled from a traffic stop.
Hobart officers saw Beals driving in the car north on Interstate 65 and then west onto I-80/94 to Cline Avenue, entering Griffith, where Griffith police joined in the pursuit. While on Cline Avenue, an officer allegedly saw Beals toss cellphones out of his driver's side door, later confirmed to be stolen from the mall.
Officers chased the car to an industrial area in the 2000 block of Woodlawn Avenue, where the suspect hit two marked Hobart police cars before striking a third and pinning an officer inside, Gonzales said.
Beals is accused of ramming his SmartCar into one officer's squad car, flattening a tire and forcing the officer to terminate the pursuit. Once surrounded by police in the parking lot at Bulkmatic Transport, Beals allegedly accelerated his SmartCar, pinning one officer's left leg and hand between two vehicles, records show.
A Griffith officer fired a shot into the Smart car when the suspect hit police vehicles and attempted to flee, Martin said. No one was struck by the gunfire.
Beals and his passenger were taken into custody at the intersection of River Drive and Indiana Avenue, records state. The passenger has since been released, police said.
Detectives said they spoke with Beals' girlfriend who said Beals asked her to go shopping at the Southlake Mall with him because he had a surprise, records state. While Beals went inside to shop, she said she waited for him in the parking lot. After about 15 minutes, Beals left the mall "walking at a fast pace," and then set his GPS device to take him back home to Chicago, records state.
She told police she feared for her life during the pursuit and allegedly begged and yelled repeatedly at Beals to pull over because she "didn't want to die," records state.
McClatchy-Tribune News Service