Elderly couple arrested with 60 pounds of pot, says the drugs were Christmas gifts
Police said Patrick Jiron, 80, and his wife Barbara Jiron, 70, had an estimated $300,000 worth of marijuana
---
By Julie Johnson
The Press Democrat, Santa Rosa, Calif.
YORK, Neb. — An 80-year-old Lake County man and his wife road tripping to the East Coast, were arrested in Nebraska on suspicion of hauling about 60 pounds of cannabis in the vehicle, according to sheriff's officials.
The odor of marijuana tipped deputies off to the stash during a Dec. 19 traffic stop in York County in eastern Nebraska, authorities said. York County sheriff's officials said deputies pulled the 2016 Toyota Tacoma over after the driver failed to signal a turn and drove left of the center line.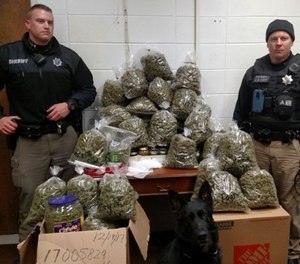 When asked about the smell, Patrick Jiron, 80, and his wife Barbara Jiron, 70, both of Clearlake Oaks, told Nebraska deputies the bags of marijuana were Christmas gifts for friends and family in Boston and Vermont, York County sheriff's officials said in a news statement.
The marijuana — with an estimated street value of about $300,000 — as well as "multiple containers of concentrated THC" were found in the "truck topper," officials said.
The Jirons were cited on suspicion of possession of marijuana with intent to deliver and a drug tax charge, a state program intended to tax people selling illegal drugs for a certain value of the contraband, which for marijuana is $100 per ounce. Nebraska has no medical marijuana program.
York County authorities released a booking photograph of Patrick Jiron. A local news outlet, the York News Times, reported that only he was booked into jail before being released on bail, and his wife was given a citation to appear in court "due to some medical issues." The sheriff's office initially reported incorrect ages for the couple, the York News Times said.
The Jirons couldn't immediately be reached Saturday for comment.
©2017 The Press Democrat (Santa Rosa, Calif.)
McClatchy-Tribune News Service