Ind. cops arrest man with 'Crime Pays' forehead tattoo for 2nd time
Donald Murray allegedly fled from officers and instigated a vehicle pursuit twice in under six months
---
David Matthews
New York Daily News
TERRE HAUTE, Ind. — Might be time to get some new ink, buddy.
An Indiana man with a "Crime Pays" forehead tattoo was arrested after a police chase. Again.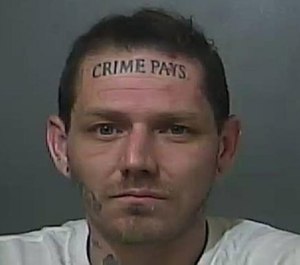 Donald Murray, 38, allegedly, fled from officers and caused a high-speed pursuit in Terre Haute last November. He ended up crashing his vehicle but managed to escape the scene on foot.
The story was featured on an episode of "Live PD."
Murray was still on the lam when he was featured on the cable TV show, but was caught and charged with criminal recklessness and resisting law enforcement. After he was originally held without bail, he was released in January on his own recognizance.
Murray was arrested Monday morning after another pursuit with Terre Haute police. He was charged with resisting law enforcement, reckless driving, possession of methamphetamine, maintaining a common nuisance and auto theft after the short pursuit Monday morning.
McClatchy-Tribune News Service