Roller coaster stolen from Ohio fair
The stolen ride — the Go-Gator — is a kiddie coaster
---
By Chris Pastrick
The Tribune-Review
MARYSVILLE, Ohio — Crime certainly has its ups and downs. And a recent theft in Ohio just goes to prove it.
Police in Marysville, Ohio, were called to investigate the theft of a roller coaster from the Union County Fairgrounds.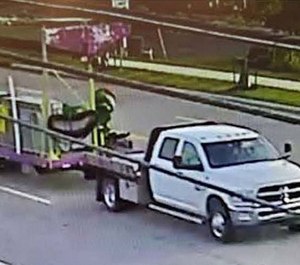 The stolen ride — the Go-Gator — is a kiddie coaster, described as a moderate thrill ride with six cars with small passengers (height requirement of 36 inches).
The Union County Sheriff's Office in Marysville, Ohio, posted about the crime on Facebook, writing "The roller coaster was on a purple and green trailer and has alligator-designed train cars, about 20 ft. total length."
Police are trying track down the culprit — or culprits. According to the report, whoever made off with it was driving a white Dodge RAM 2500 with Maine plates and was hauling the stolen trailer.
Luckily for police, a traffic camera snagged a photo of the truck — and the stolen roller coaster.
©2019 The Tribune-Review (Greensburg, Pa.)
McClatchy-Tribune News Service