Student takes acid, tries to bite police officer in groin
The college freshman had been handcuffed prior to the attempted assault
---
Joe Moylan
Greeley Tribune
GREELEY, Colo. — A 19-year-old University of Northern Colorado student was arrested last week after he allegedly ingested acid and tried to bite a Greeley police officer in the groin.
James Adam Pike was subsequently jailed on suspicion of one count of criminal attempt to commit second-degree assault, a felony.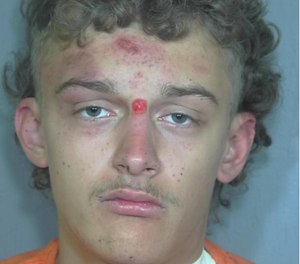 Just before 2 a.m. Saturday, Oct. 5, Greeley police responded to a report of a man who was acting aggressively. The caller told dispatchers a freshman, later identified as Pike, had taken three or four tabs of acid and 200 milligrams of marijuana, removed his clothes and was trying to fight other members of the fraternity.
Three Greeley police officers were dispatched to the scene and were able to place handcuffs on Pike while he was still being aggressive. After the handcuffs were secure, Pike suddenly rolled over from his belly, sat up and lunged at the groin area of one of the officers, according to court records.
The officer yelled out as Pike allegedly tried to bite him in the groin. The officers "delivered strikes" to Pike's head in an effort to subdue him, but the punches had limited effect, according to court records.
Officers eventually gained control of Pike. He was first taken to North Colorado Medical Center for clearance prior to being booked into the Weld County Jail. He is free on bond.
McClatchy-Tribune News Service