3 predictions on the future of the FBI after Comey's firing
What does President Trump's firing of FBI Director Comey mean for the future of that agency?
---
On Tuesday, President Donald Trump abruptly fired FBI Director James Comey. 
It was a bombshell that immediately flipped the script for the nightly news on the major networks – the announcement happened about 10 minutes before the anchors of the big three networks went to air. 
The firing was not entirely unexpected; it's well documented that Trump was critical (to be kind) of Comey in the past year or so. Deputy Attorney General Ron Rosenstein maintains that it was he who initiated an analysis of the FBI's (in general) and Comey's (in particular) handling of the investigation into the Hillary Clinton private email server scandal.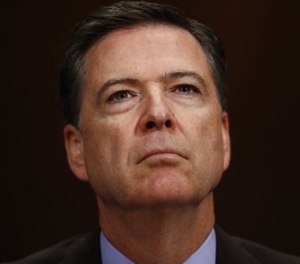 Upon completing his inquiry, Rosenstein delivered a memorandum outlining his findings to the White House – Trump immediately issued a letter to the now-former FBI director telling him he was fired. 
Democratic Party leaders, who only a few months ago were demanding that Comey be fired, are now blasting Trump for doing precisely that. 
Even some Republicans expressed disappointment. Senate Intelligence Chairman Richard Burr said that he is "troubled by the timing and reasoning of Director Comey's termination," and Arizona Senator John McCain said he was "disappointed" by the move.
Television talking heads breathlessly compared Comey's firing to President Richard Nixon's so-called "Saturday Night Massacre" – which led to the resignations of Attorney General Elliot Richardson and Deputy Attorney General William Ruckelshaus – because they refused Nixon's orders to fire independent special prosecutor Archibald Cox.
So, what does Trump's firing of Comey mean for the future of that agency? I've come up with three predictions. Add your own in the comments field below. 
1. Ongoing investigations will remain ongoing
Comey announced in March that there had been an ongoing investigation into whether the Trump campaign — and/or Trump's associates — coordinated with Russia to influence the 2016 presidential election. That probe will continue. As will ongoing investigations in all areas of focus for the FBI, from terror investigations in all 50 states to inquiries about transnational/national criminal organizations. 
The ground level people at the FBI are professionals who take their job seriously. Comey's absence will not deter them from their assignments. Unless or until a new director takes the helm and flat out crushes (defunds and disbands an investigatory team) an investigation, those efforts will continue unabated. 
2. A new interim director will be quickly selected
A search for a new permanent FBI director will begin immediately, but another search is also underway. In the standard line of succession, the interim director would be Andrew McCabe, but because Trump has taken issue with him in the past, I'd anticipate that he will not hold that post for very long. According to reports, Attorney General Jeff Sessions and Rosenstein have already reportedly interviewed a handful of candidates. 
Trump is not exactly known for waiting around to do something – evidenced by the abrupt dismissal of the director yesterday afternoon – and I would imagine the president to put pressure on his underlings to replace McCabe post-haste. 
3. Politics will permeate (and poison) the process
Comey was a polarizing figure. Depending on what month it was (early July or late October), both Democrats and Republicans were criticizing him and calling for his dismissal. His absence will do nothing to quell the disorder. The ongoing Russia probe is just one example of how both parties will continue to bicker over the goings-on at the FBI. 
Further, Comey's firing could have political consequences on Capitol Hill. Democrats have threatened to "slow the Senate to a crawl" on all manner of totally unrelated matters. 
"We clearly have the option of slowing down the proceedings of the Senate if there's not proper response from Republicans," said Sen.  Chris Murphy, D-Conn., after a closed-door Democratic caucus meeting focused on Comey's firing, according to The Hill.
And just imagine the spectacle of the confirmation hearings for whomever the president selects as the new permanent director. 
Conclusion
The president firing an FBI director is certainly unusual, but not entirely without precedent – it has happened once before. In 1993, then-President Bill Clinton fired FBI Director William Sessions due to alleged financial transgressions. And, Clinton wanted his own FBI director. 
Rosenstein's memorandum to Trump was crafted to indicate there was bipartisan consensus that Comey had lost the confidence of rank-and-file FBI employees, as well as DOJ officials and others around Washington, and that the suggestion to fire the director was not based on politics. 
However, the timing of this firing casts doubts in the minds of many about the motive. Days before he was fired, several Congressional officials have said that Comey had asked the Justice Department for more resources for the bureau's investigation into Russia's interference in last year's elections.
Attention now turns to Comey's successor and the impact on the bureau's Russia investigation.