Atlanta police chief: Charges against officers are political
Chief Erika Shields told officers multiple agencies have ended support for the department in the ongoing protests
---
Stephen Deere
Atlanta Journal-Constitution
ATLANTA — Police Chief Erika Shields told Atlanta police officers Monday that her firing of two cops involved in an excessive force arrest during Saturday night's protests was justified, but said criminal charges filed against them by Fulton District Attorney Paul Howard was "a tsunami of political jockeying during an election year." 
Shields also said in the memo to all APD employees that the charges have caused multiple agencies to end their support for the department in the ongoing protests against police violence that entered a sixth consecutive night on Wednesday.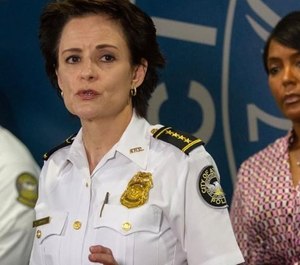 Shields said the officers were fired because they turned what should have been a routine interaction into a violent encounter. But the chief said she never discussed charging the officers, with either Howard or Mayor Keisha Lance Bottoms. 
"We created chaos and we escalated a low-level encounter into a space where we introduced violence," Shields wrote in her memo. "Once this occurs, we need to own it.
"Now that the charges have been announced, I'm very concerned with the space we find ourselves in, both tactically and emotionally. Multiple agencies that were assisting us in managing this incredibly volatile time have pulled out, effective immediately. They are not comfortable with their employees being leveraged politically by the potential of also facing criminal charges." 
In a prepared statement Wednesday, Howard said he discussed the charges with Shields the day before they were filed. He also said he was "perplexed" by Shields accusation that the charges were politically motivated. 
"The Chief, after assessing the excessiveness of the officers' conduct, decided to fire two of the officers involved. After reviewing the police officers' bodycam videos, she literally fired these officers on the spot," Howard said in the statement. 
 "I am perplexed that when the Atlanta Chief of Police makes a decision within her authority her actions are legitimate, but when I, as the Fulton County District Attorney, make a decision to act under the law to ensure justice based on clear evidence available, these actions are deemed to be 'political' all of a sudden. 
Howard's decision to charge the officers comes a week before Democratic primary, when he will face a tough reelection bid against two challengers, Fani Willis and Christian Wise Smith. And the election is happening at a time when two state investigations of Howard — one of which is criminal — have fueled speculation about the district attorney's vulnerability as he seeks a seventh term.
The two fired officers, Ivory Streeter and Mark Gardner, both face a charge of aggravated battery for tasing the students. Streeter also faces a charge of pointing a gun or pistol at another without intentionally and without justification. Four other officers also face charges ranging from aggravated assault to criminal damage.
An APD spokesman named five agencies that have ended their assistance to Atlanta over the incident. But spokesmen for two of the agencies, the Gwinnett and Clayton county police departments, said they diverted officers to deal with issues in their own jurisdiction and are willing to continue assistance if they have enough resources.
Clayton County Police said they made the decision to pull out of Atlanta before Howard announced the charges. 
"It was decided on Monday that our department needed to ensure that we didn't exhaust and/or deplete our resources," according to an email from Major Tina Daniel. "We had no knowledge of (Shields) email."
Other agencies named by the APD spokesman didn't return messages left Wednesday.
An APD spokesman declined on Wednesday to say how many officers from other agencies have been pulled out of downtown.
Lance LoRusso, the attorney for the two fired officers, said their swift terminations violated city policy, the law and well-established protocol of taking proposed charges against police officers to a grand jury. LoRusso also pointed out that the students were arrested after the city's 9 p.m. curfew, when events had turned chaotic.
"Both were fired before they could be interviewed by the Office of Professional Standards in direct violation of the policies and procedures of the Atlanta Police Department as well as the law," LoRusso said. "Any charges brought by a District Attorney without a full investigation should raise concerns."
Gerald Griggs, second vice president of the Atlanta Chapter of the NAACP, called Howard's swift action "a bold decision and it showed courage."
But Griggs also wondered why Howard hadn't acted as quickly in past, and rattled off the names of a half-dozen others killed by police since 2015 when the district attorney didn't bring charges.
Griggs said that while he respects Shields, the memo sent her employees was the wrong message. Officers should know that if they don't follow the law, they will face the full brunt of it, he said.
Bottoms and Shields apologized to the community on Sunday for what Bottoms described as "clearly excessive force" used by officers during the encounter. Bottoms said they made the disciplinary decisions after reviewing hours of video from seven officers' body cameras. 
 Shields said in the memo that she was sure the officers' actions would be justifiable, but the video changed her mind. 
 "The more I watched and the more I listened it was apparent we were in the wrong," Shields' wrote in the memo. 
Speaking on the Pod Save America program, Bottoms said the situation required immediate action. 
"So my police officers just got a very real lesson in what our expectations and what our level of tolerance will be in the city of Atlanta," she said. "If the force was excessive, they've got to be fired. Period. And I think those are the type changes and expectations that we've got to give to our police officers and the expectation we've got to give to our community because nobody has patience with waiting." 
McClatchy-Tribune News Service