Effectively engaging police recruits in challenging times
Police leaders must evaluate recruitment communications and techniques, as well as uncover new methods to help with outreach messaging
---
By Roberto Villasenor, Sean Smoot, Dallas Thompson and Sharon Carothers
The police recruitment and retention crisis shows no signs of abating. Departments and agencies across the nation of every size have been impacted by a significant reduction in applications, increases in attrition and an acceleration of retirements in recent years. Law enforcement leadership has sought to combat the trend by evaluating recruitment communications and techniques, as well as trying to uncover new methods that will help their outreach messaging break through the clutter and resonate with millennials and the newest entrants to the workforce, Gen Z.
Many factors have contributed to a measurable reduction in police recruiting numbers. Negative perceptions about and mistrust toward law enforcement from the general public, a strong job market with low unemployment, comparatively low salaries and safety concerns are just a few. One of the major issues is a change in workplace expectations among the two generations who comprise the prospect pipeline: millennials and Gen Z. This is not only an immediate issue but if trends continue it will be an even bigger threat to police departments and their communities in the future.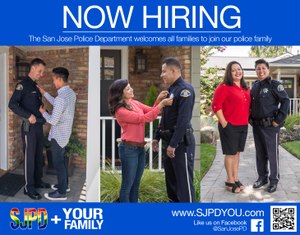 A review of recent police recruitment advertising reveals a shift in imagery and tone from messaging that was prominent several years ago. Many of those responsible for attracting new officers have recognized that appealing to a sense of adventure with paramilitary and tactical imagery is not resonating with all of today's potential recruits, and has not generated the interest and number of applications needed to curb the general downward direction in applications.
The observable trend in police recruitment communications has been a move toward appealing to a service rather than an enforcement mindset, which is more in line with what today's qualified and age-eligible prospective applicants are looking for in a career. The current cohort of potential recruits not only have different workplace expectations but have media consumption habits that require a shift toward more interactive ways of communication. More than any other generation, millennials and Gen Z prospects are more influenced by testimonials, reviews and personal experiences of someone who has "been there."  This opens an opportunity to appeal to prospects by leveraging current officer stories and experiences to humanize the law enforcement profession and amplify the "serve and protect" nature of police work.     
With limited resources and ever-decreasing budgets, agencies must get as much value as possible from investments in recruiting. Casting a wider net with messaging that resonates with a broader segment of potential candidates while leveraging the targeted and measurable nature of digital advertising and social media, will help in engaging potential applicants who hadn't considered a law enforcement career and significantly improve the cost-effectiveness of recruitment spending.
Police departments have a positive story to tell. Myriad daily interactions with the public, as well as the organized community-building activities most departments engage in, offer a plethora of stories that can enhance the perception of law enforcement.
However, there is no short cut. Officer stories must be carefully selected, cultivated and distributed. Digital media initiatives must be researched, planned, implemented, managed and optimized. In most cases, the ingredients for effective outreach are present but the time and expertise to effectively leverage those elements is often lacking. Prioritizing these efforts by police leadership is paramount and active support from the rank and file is critical. It is important to create a culture that embraces the idea that every officer is a recruiter.
The most effective way to employ digital outreach is to engage a team of digital marketing professionals. However, this is often not an option for cash-strapped departments with limited resources. An alternate approach is to seek out social media savvy officers, civilian employees, or community volunteers to help with the process. Establishing recruitment as a collective effort for all who comprise the law enforcement community, as well as raising awareness that sharing positive daily interactions and community activity with the public is worthwhile, are recruitment imperatives.
The following actionable recommendations will help your advertising dollars go further and increase digital engagement with potential prospects:
Take advantage of Google's free tools. Google offers a number of free solutions that can help organizations with limited budgets. Google Analytics is one of the most powerful platforms available for analyzing web traffic. It will allow you to see who is visiting your site and help you determine how to better craft your outreach and see if you're attracting people outside your target market. This information will help fine-tune your audience target.
Evaluate your police recruitment website. Look closely at what prospects see when they visit your website. Does it effectively communicate the prospect's journey from application to hire? Is it easy to navigate? Does it have a clear call to action? Is your site user-friendly and adaptable to multiple devices (laptop, tablet, mobile)? Is your content fresh and does it work seamlessly with the outreach activities that drive visitors to your site? Your website should be a continuation of whatever content, on or offline, that prompted someone to seek additional information.
Leverage existing contacts and reach out to influencers. Relationships in the community can be a way to extend your messaging through partnership agreements with individuals and organizations that are supportive of law enforcement. Do not be hesitant to ask supporters to help with getting the word out for this very important mission that impacts all community stakeholders – the worse they can say is no.
Create engaging content. Large advertisers and marketers invest large amounts of money into content creation. However, heavy monetary investment is not necessary to develop content that will effectively engage your audience. But providing engaging and relevant content will take an investment of time. Videos of individual officer stories/testimonials, department involvement in community activities, relevant public safety topics and direct to prospect communications about the benefits of a law enforcement career, are all viable ways to deliver messaging that can be pushed out on department and partner-owned social media and digital channels. The more polished the final product appears, the more engaging it will be to the target audience, but it isn't necessary to have high-definition or cinematic-level video for the messaging to be effective. What is important is that the communications are clear, concise and consistent with the overarching messaging strategy of the department's other outreach efforts.
As the law enforcement profession addresses this new challenge, it is important to remember that to be competitive in the recruitment and retention areas we have to keep in mind the viewpoints and communication styles of our target audience and reach out to them in the manner that will be most effective. We are part of a community and it is vital to adapt and evolve with those members of our community who will be meeting the challenges of law enforcement in the future.
---
About the authors
Roberto Villaseñor served with the Tucson Police Department for over 35 years, serving as the chief of the department from May 2009 until his retirement in December 2015. He has served on several state and national boards and committees to include the Arizona HIDTA (chai), The Arizona Association of Chiefs of Police (president), the Police Executive Research Forum (PERF) Executive Board and the FBI CJIS/UCR Working Group, and currently sits on the Customs and Border Protection (CBP) Ethics and Integrity Advisory Panel. In 2014 Chief Villaseñor was appointed by President Obama to the President's National Task Force on 21st Century Policing, and in 2015 was appointed by Arizona Governor Doug Ducey to the Arizona Criminal Justice Council. He is a partner at 21CP Solutions.
Sean M. Smoot serves as director and chief counsel for the Police Benevolent & Protective Association of Illinois ("PB&PA") and the Police Benevolent Labor Committee ("PBLC"). He speaks regularly at state, national and international forums regarding community policing, public safety and public employee labor issues. A veteran, Smoot has also been a featured speaker at the National Academy of Arbitrators and several CLE programs regarding the Rights of Military Employees. He is a partner at 21CP Solutions.
Sharon Carothers is managing director for Sensis and has more than 20 years of experience in leading research, planning and strategy and leads Sensis' behavior change practice. She has expertise in developing media campaigns that create individual and population-based attitudinal and behavior change for both multicultural and general market audiences. Before joining Sensis, Sharon was part of the start-up team that built the award-winning Truth campaign, which has prevented 400,000+ youth from tobacco use nationwide.
Dallas G. Thompson is senior account director for Sensis. He has 20+ years of experience in integrated marketing communications with expertise in marketing research, strategy, branding, multicultural marketing, integrated communications campaign development, digital communications, public relations, creative direction, direct response marketing and partnership development. He has served in leadership roles on multiple public education and behavior change campaigns and has led recruitment outreach and marketing activities supporting multiple "missions" for the U.S. Army for both multicultural and general market audiences.