Former Texas police chief criticizes city after fatal shooting, demands job back
He accused city officials of firing him because they were under the control of the police union
---
Luke Ranker
Fort Worth Star-Telegram
FORT WORTH, Texas — With tension high in Fort Worth over the police shooting a woman in her home, fired Fort Worth police chief Joel Fitzgerald issued a statement through his lawyer again demanding his job back and criticizing the city.
In a statement from Dallas attorney Stephen Kennedy, Fitzgerald urged the police department to have all officers undergo de-escalation and bias training. He also accused city politicians of being controlled by the police officer's union.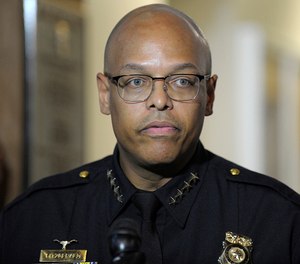 "Having institutional control over the law enforcement agency is a must, especially when dealing with newer generations of officers who erroneously default to equipment over communications skills," the statement said.
Early Saturday morning an officer shot 28-year-old Atatiana Jefferson through the window of her home. Police were responding to a call for a welfare check.
During a news conference Monday afternoon, interim Police Chief Ed Kraus identified the officer who shot Jefferson as Aaron Dean and said he had planned to fire Dean before he resigned Monday morning.
Fitzgerald was fired in May following a confrontation in Washington, D.C., with the head of the state police union during a memorial for fallen officers. The city maintains he was fired for a number of reasons, including the D.C. confrontation, and failure to exercise sound judgment and leadership.
Kennedy said he filed a motion requesting a special determination that Fitzgerald receive a jury trail as soon as possible regarding a whistleblower lawsuit he filed against the city.
Asked about Fitzgerald's demands to be reinstated and the ongoing litigation, Fort Worth Mayor Betsy Price declined to comment during the city's news conference.
"I think it's an unnecessary distraction," she said.
Kennedy and Fort Worth pastor Kyev Tatum held their own news conference at the same time as the city's. They argued Fitzgerald was better suited to handle the police department. Tatum said he believed Fitzgerald advocated for de-escalation training and had sternly disciplined officers who had used force inappropriately.
"We have no confidence in the city or the police department," Tatum said.
Fitzgerald did not attend the conference because he was sick, Kennedy said.
He filed the whistleblower lawsuit in June after the termination claiming he was fired because he was conducting an investigation into compliance issues with the city's crime reporting systems.
In the statement Kennedy demanded the city reinstate Fitzgerald and grant a public hearing regarding his firing. He accused city officials of engaging in "machine politics" that favor the police union and lead to racial tension.
"Failure to act in accordance with the law has led this City to chaos," he said. "It's time to stop playing politics."
The statement also referenced an April incident in which a white officer violated departmental policies by escalating an encounter. Officer Thomas Shelton stopped Shamika Whitfield for speeding on April 18 in the 5900 block of Trailview Drive. Shelton pulled on the woman's seat belt and, with other officers, handcuffed her. She sat in Shelton's patrol car for 17 minutes before he released her with a speeding citation.
Whitfield called 911 to request that another officer respond to the stop location because she was afraid of how Shelton was acting.
Shelton was suspended for 30 days without pay. Kennedy described the punishment as a "slap on the wrist."
Kennedy also criticized Price and police union president Manny Ramirez for not attending a Sunday press conference. Price attended a vigil for Jefferson Sunday evening, but did not speak to the crowd.
During their news conference, both Tatum and Kennedy alleged Fitzgerald was fired because his leadership was met with resistance from the local police union.
McClatchy-Tribune News Service