RISE Award Nominee: 3 ways an Ohio PD gained their community's trust
A newly-appointed chief discovered a glaring disconnect between the police and their community, and set out to fix it
---
Congratulations to the Bellefontaine Police Department, a nominee of TASER and PoliceOne's RISE Awards in the "Leadership" category. Bellefontaine PD recognized the issues its town was facing and thought out of the box to come up with multiple ways to build a better, more trusting community. Nomintations closed Sept. 15. We'll be announcing the winners shortly! 
Since November 2011, the intangible barrier that divided the Bellefontaine, Ohio police from their small community of 13,500 swiftly began to crumble.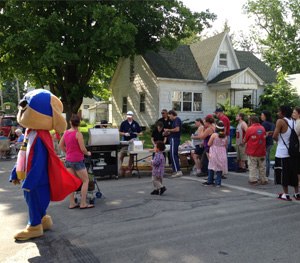 Brandon Standley was sworn in as chief in November, and as he felt out the town, he sensed the glaring disconnect between civilians and the police - a misunderstanding of what the police did and did not do.
Standley, his 36-member department, and the vital decision-makers of the town hashed out a definitive three-part plan to open the doors of communication and escalate the transparency of the department.
Part 1: Starting the First-Ever Citizen's Police Academy
The first step was to establish the town's first-ever citizen's police academy. Bellefontaine reached out to a neighboring department who had a CPA in place, and sent a sergeant to the department to receive the proper training.
The next steps were to create a curriculum, order supplies, recruit instructors and guest speakers to teach the classes, and promote the program through local media and word of mouth.
The first class kicked off with a building tour and a history overview of policing, given by Standley.
"This shows them why law enforcement is important, and why we need their support both in monetary support occasionally, and just being a good witness," Standley said.  "In fact, one of the topics we cover is how to be a good witness."
Other topics the class covers include drug investigations, traffic enforcement, firearms safety and training (which includes range time), corrections, distracted driving, OVI enforcement, 911 dispatching, bike patrol, and auxiliary units.
The first class of Citizen Police graduated from the 13-week program in 2012. 26 citizens have graduated in two academies from Bellefontaine so far, and a third class begins in 2015.
"Graduates of our program support our agency in a variety of ways," Standley said. "Their duties continue to develop as we blend them into our operations more and more.  For example, many return to help us with our ongoing outreach efforts.  Whether they are there to set up and tear down equipment, speak to family and friends about us, or occasionally write a letter of support on Facebook or to our local media outlets, they are clearly huge supporters of what we want to do in providing a high level of community policing efforts."
Standley said instating the CPA was a huge hit with the town, and an important part of helping citizens understand the roles of police.
Part 2: Reinstating the D.A.R.E. program
In 2004, the D.A.R.E. (Drug Abuse Resistance Education) program at Bellefontaine schools was shut down as a result of budget cuts, taking away a valuable and positive connection between the town's youth and law enforcement.
Standley recognized that the respect and understanding a town has for their police needs to start at a young age, so despite a continued lack of funding, he took the necessary steps to not only get the program back into schools, but to expand it.
"We started with a program called the 'Guide'," explained D.A.R.E. Officer Andy Kennedy. "Myself and another officer headed up that program. It was five [drug awareness-themed] sessions a year for eighth graders."
The Guide program was effective, but Standley knew it wasn't enough and needed the program to act as a catalyst to reinstate a D.A.R.E. officer in the schools.
After some convincing, the town council agreed to fund a D.A.R.E officer, and Kennedy became a full time SRO, teaching middle school students good decision-making skills and weighing risk versus consequence.
"It was interesting because I went to school here and came up through [the D.A.R.E. program] and knew all about it, but none of these kids had even heard of it, so it was like we were starting all over again," said Kennedy. "Thankfully we have two former D.A.R.E. officers in my command staff so they helped me get over the initial growing pains."
The program teaches third through fifth grades, with plans to expand to Kindergarten through third grade and seventh grade next year.
"Within weeks of starting the program, I went from having these kids looking at me in strange ways, wondering what an officer was doing in school, to having them greet me and smile when they saw me. I really saw those relationships begin to evolve with students of all ages."
Part 3: Taking the "Show on the Road"
The police department adopted its own community policing strategy by developing what they call their "show on the road" program.
"When I first started with the department I was inundated with questions about what the police do, and thought 'there has to be a better way to do this,'" Standley said. "We shouldn't be waiting for people to come to us."
So the department partnered with a local company which rented tents and provided equipment to help officers set up shop in neighborhoods around town.
"We have conversations about drugs and alcohol abuse, child abuse, we play games with the kids, we have cookouts," Standley said.
The department has also worked with the local hospital to tackle issues like childhood obesity, serving up fruit and grilled chicken.
The event often takes place in low-income neighborhoods, apartment complexes, and public parks, per request of members of the community.
"It's been awesome," he said. "The feedback from citizens is all positive; we get a lot of comments about how appreciative people are that we are coming to them. We've started to receive drug tips from the community. They understand that they can trust us."
The Bellefontaine Police Department's commitment to find new and innovative ways to close the gap between police and the community is why they're an outstanding candidate for TASER and PoliceOne's first-ever RISE Awards for the "Leadership" category.
Do you know an officer or agency who rises above the call of duty? We're still receiving nominations through September 15, so nominate today!