Tulsa announces first black police chief
Wendell Franklin, a 22-year veteran of the department, said he plans to focus on improving the department's transparency and public services
---
Kevin Canfield
Tulsa World
TULSA, Okla. — Maj. Wendell Franklin was introduced Wednesday as Tulsa's next police chief.
"I am so fearful of failing, OK, but I know I can't fail because I have such a great group of people around to help me," Franklin said during an afternoon press conference at City Hall.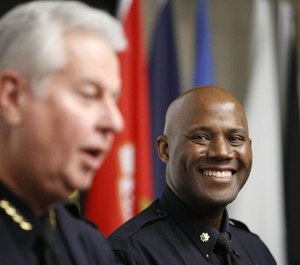 Franklin, 46, was selected by Mayor G.T. Bynum to succeed Chief Chuck Jordan, who is retiring Feb. 1.
"Out of the several excellent public servants, I have decided that Wendell Franklin is the best person to lead the Tulsa Police Department moving forward because he has a clear vision of the Tulsa Police Department, because he is an effective team builder with high standards, and because he knows personally the realities of community policing in all parts of our city," Bynum said.
Franklin's passion for innovation and his selfless management style reflect "the ideal that my administration seeks to install in the culture of our great city," the mayor said.
Franklin is the first African-American to serve as the city's police chief on a permanent basis. Deputy Chief Bobby Busby served as acting chief in the early 1990s.
Franklin, who was accompanied by his wife, Arquicia Franklin, and their two sons, said he and his family recognize the historic significance of his selection.
"But I am so much more focused on where we need to go and what I need to do," he said.
Franklin was commander of the Gilcrease Division in historically black north Tulsa for several years, an experience he said has helped him appreciate the complex relationship between that community and the officers who serve it.
Franklin joined the Tulsa Police Department in 1997. He is a 1992 graduate of Booker T. Washington High School and a 1996 graduate of Langston University in Tulsa.
He began his TPD career patrolling in north Tulsa. He was promoted to sergeant and worked overnight in the Mingo Valley Division. He went on to become an administrative sergeant in the Special Investigations Division. As a captain, he worked overnight at the Gilcrease Division before being promoted to major.
He most recently led the department's Headquarters Division, where he oversaw accreditation and helped develop and implement policy.
Franklin said Wednesday that he plans to use the latest technology to enhance transparency and improve service.
"One of the things I believe is, if you are not growing, if you are stagnant, if you don't want to change, well, change is happening," he said.
Asked about the city's participation in the "Live PD" television program — a recent subject of controversy — Franklin acknowledged the entertainment aspect of the show but also noted its benefits.
"I will say this about 'Live PD,' 'Live PD' is entertainment. There is no question about it; it is entertainment," he said. "But I will say that, where else can I for free as a chief of police, show transparency? Where else can I showcase the work of what TPD is doing on a national stage?"
Bynum said several factors separated Franklin from the rest of the field.
"I think the great distinguishing factors for him were his work as a front-line commander and officer to whom community policing came by instinct," the mayor said. "He was out doing it before we knew to call it community policing, and that he has that reputation for being a great team builder."
City Council Chairman Ben Kimbro praised the mayor's selection. Kimbro was one of 10 citizen panelists who interviewed the finalists.
"Wendell Franklin is what you see is what you get," Kimbro said. "He is honest; he is forthcoming. His expectations of command staff down to rookies is going to be very high.
"I think it is a fantastic day and an opportunity, representational of the next steps in the growth of the Police Department. He is going to do a great job."
McClatchy-Tribune News Service