80-year-old man accused of punching cop at Elizabeth Smart event
An 80-year-old man is accused of punching a police officer who stopped him from approaching kidnapping survivor Elizabeth Smart with a knife
---
Associated Press
TERRE HAUTE, Ind. — An 80-year-old man is accused of punching a police officer who stopped him from approaching kidnapping survivor Elizabeth Smart with a knife at a book-signing event in Indiana.
Smart — who was 14 in 2002 when she was snatched from her bedroom in Salt Lake City and held for nine months — had been speaking about overcoming adversity at Indiana State University on Wednesday when the incident occurred.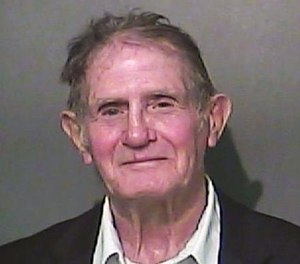 ISU Police Chief Joseph Newport said Claude Hudson had been sitting in the front row during Smart's presentation and was later spotted fiddling with a 3-inch pocket knife, using it to open a tea bag wrapping and "just acting so peculiar,"
Hudson then concealed the knife and started to walk up a line of about 100 people who were waiting to meet Smart and have books signed, Newport said. An officer stepped between Hudson and Smart, and the suspect hit the officer twice in his midsection, Newport said.
Hudson, of Terre Haute, Indiana, pleaded not guilty to a battery charge Wednesday.
Smart issued a statement through her representative Thursday, saying she "is grateful for law enforcement and Indiana State University's quick response and that the event and her work continued undeterred."
The police chief said Hudson is a frequent visitor to Indiana State University and that investigators have found no connection between Hudson and Smart.
A judge set Hudson's bond at $25,000 bond and ordered a mental health evaluation. Hudson's trial is scheduled for May 9. He is currently on parole for a burglary conviction.
Hudson's public defender hasn't responded to a request for comment. There was no answer at a phone listed for Hudson in Terre Haute.
Copyright Associated Press. All rights reserved. This material may not be published, broadcast, rewritten, or redistributed.