Dallas police union to mayor: You're 'not welcome' at memorial ceremony
The union said many widows of officers killed in the July 7 ambush and other officers have been "left suffering" due to the faulty pension plan
---
By PoliceOne Staff
DALLAS — The five officers who were killed in a July 7 ambush will be honored on May 17, dubbed Police Memorial Day, and the union says they don't want the mayor there.
In a letter to Mayor Mike Rawlings released Tuesday, the Dallas Fraternal Order of Police said "several widows have asked" him not to attend due to his "lack of support of public safety." The letter states Rawlings' rhetoric that he's displayed "over the past several years towards police has hit an all-time high."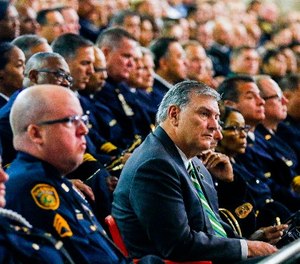 "The widows of the slain Dallas Police are suffering due to your actions. The retirees of the police department are suffering due to your actions," Dallas FOP President Michael Walton wrote. "The current members of the department that are left are suffering due to the low pay, and officers are leaving in record numbers under your watch."
NBC DFW reported that the letter comes on the eve of the Dallas City Council's vote on the police and fire pension bill.
Rawlings has frustrated Dallas police officers after he told the Dallas Morning News that he won't support legislation to save the bankrupt pension system.
"This is a poison pill that, as inserted, would damage the city of Dallas and its services for decades to come," Rawlings said.
Rawlings' office told NBC they had no comment on the letter.