Metal band guitarist, police advocate visits Nev. Highway Patrol after trooper's death
Five Finger Death Punch guitarist Zoltan Bathory extended financial assistance to the family of Trooper Sgt. Ben Jenkins
---
By Amanda Lien
LAS VEGAS — Five Finger Death Punch guitarist Zoltan Bathory visited Nevada Highway Patrol (NHP) troopers April 10 following the death of Trooper Sgt. Ben Jenkins in Ely.
Bathory, a Nevada resident, is a regular supporter of law enforcement and often visits law enforcement agencies to offer support, according to an NHP release. During this visit, Bathory offered financial assistance to the Jenkins family.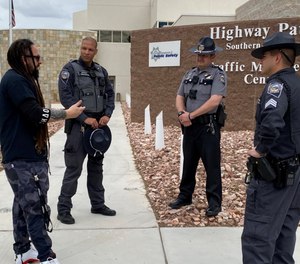 Jenkins, a member of NHP since 2008, was fatally shot March 27 before the suspect stole his uniform and patrol vehicle. The suspect was later taken into custody.
"Zoltan's support of the law enforcement community and his willingness to assist a grieving department and family during one of the most tragic times in our agency's history is amazing," Trooper Jason Buratczuk said in a statement. "He is very down to earth and always connects with our troopers on a personal level when he comes to visit. His continued love and support during this most difficult time is very much appreciated by our department."
In 2019, the band donated $65,000 in music proceeds to the Gary Sinise Foundation, an organization honoring first responders and veterans, according to the NHP release. The year before, the band donated $95,000 to Concerns of Police Survivors (C.O.P.S.), a group supporting families affected by line of duty deaths.