NFL denies Dallas Cowboys request to honor fallen officers
The decal represents when Dallas leaders and members of the team walked out arm in arm on the opening day of training camp
---
By Tim Griffin
San Antonio Express-News
DALLAS — When Dallas opens its preseason Sunday night when it meets the Los Angeles Rams on national television, the Cowboys won't have helmet decals honoring the five police officers who were killed in last month's attack.
Many members of the Cowboys' organization have been extremely vocal in support of the Dallas Police Department after the July 7 attack in downtown Dallas that resulted in the police deaths.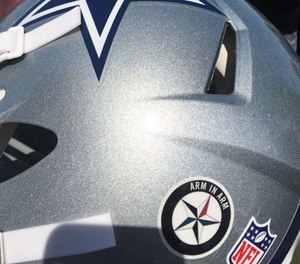 Owner Jerry Jones has embraced the idea, which was conceived by veteran tight end Jason Witten.
The "Arm in Arm" design represents the moment when Dallas police Chief David Brown joined Dallas mayor Mike Rawlings, family members of the fallen officers and members of the team on the opening day of training camp in Oxnard, Calif.
Despite that strong support from one of the league's most powerful franchises, the NFL has struck down the request for the team to wear the decal during the regular season or its four preseason games. The Dallas organization petitioned to use the decal, but it was denied.
"Everyone has to be uniform with the league and the other 31 teams," Cowboys executive vice president Stephen Jones told the Dallas Morning News. "We respect their decision."
The team apparently will continue to wear the decals during its practices.
The NFL has one of the strictest policies of any professional sport in its demands to have players uniforms remain uniform with differentiation only between teams through jerseys, helmets and pants.
Several ex-players walk the sidelines during NFL games looking for players who wear different uniforms than others. Those players are subject to fines after they are called out.
The league turned down Pittsburgh running back DeAngelo Williams' request to wear pink all season to honor his mother, who had died of breast cancer.
The league appeared heartless when Williams was fined $5.757 by the NFL for having the words "find the cure" and wearing a breast cancer pink ribbon printed on his eye black.
"There are so many wonderful, wonderful causes, the league has to be careful," Jones told reporters earlier in camp about the possibility of wearing the decal in games. "If you allow one, then what do you do about every team that has a great reason to have something on their helmets?
"There are tons of things out there that need to be recognized. Once you open that Pandora's box, how do you ever stop?"
McClatchy-Tribune News Service