OfferUp's community policing program creates safe haven for buyers and sellers
OfferUp's Law Enforcement Outreach Program works with law enforcement to create a safe meeting place for local commerce
---
Sponsored by OfferUp
By Victoria Mack for PoliceOne BrandFocus
There are many advantages to online marketplaces: Sellers can post and modify ads quickly, buyers can browse or search for items by keyword, and with the internet's broad reach, individual buyers and sellers can find each other easily. But along with those advantages come safety and security challenges.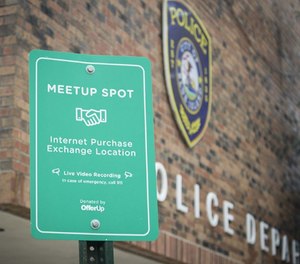 As local marketplace apps become more widely used, the incidence of related crimes also increases, and law enforcement is playing an expanding role in protecting citizens who buy and sell using online marketplaces. OfferUp, the largest mobile marketplace for local buyers and sellers in the U.S., initiated its Law Enforcement Outreach Program to support these efforts.
THE OFFERUP LAW ENFORCEMENT OUTREACH MISSION
OfferUp's mission is to build the most trusted marketplace for local exchange.
Founded in December 2012, OfferUp is committed to the health of local communities. Its outreach program was created in support of community policing efforts, said Sarah Parker, team leader for Community Safety at OfferUp.
The OfferUp outreach program aligns with the DOJ community policing policies and approach and helps serve the priorities of the Office of Community Oriented Policing Services (COPS Office), the component of the DOJ responsible for advancing the practice of community policing by state, local, territorial, and tribal law enforcement agencies through information and grant resources.
COPS community policing begins with a commitment to building trust and mutual respect between police and communities. It is critical to public safety, ensuring that all stakeholders work together to address our crime challenges.
OFFERUP'S PARTNERSHIP WITH LAW ENFORCEMENT
Law enforcement organizations throughout the U.S. are working with OfferUp to keep their communities' local buyers and sellers safe, Parker said.
"As part of the commitment to community policing, agencies can partner with OfferUp to increase the safety of their communities and build their community's confidence in local commerce. OfferUp helps agencies create safe places to meet through the OfferUp Community MeetUp Spots Program and provides training and services to help cops solve crimes," Parker said.
OfferUp wants these programs to help law enforcement generate positive public sentiment and trust, which they hope will lead to citizens being more likely to cooperate or report a crime.
"Trust is the key here," Parker said. "OfferUp and law enforcement care about building trust within the community."
HOW THE OFFERUP LAW ENFORCEMENT OUTREACH PROGRAM WORKS
OfferUp's outreach program has already provided free, in-person training to over 2,500 law enforcement officers in 10 states.
A specific OfferUp team is designated to follow up on law enforcement inquiries and to cultivate relationships with community members and government officials.
"We've been successful with starting conversations between law enforcement leadership and city administrators," Parker said.
In addition, OfferUp's team monitors newspapers, newscasts, online newsletters and social networks (Twitter, Facebook) for mentions of security incidents and proactively reaches out to help law enforcement if they see an issue.
Parked noted that free agency training programs include investigative best practices for how to request records and an education of what data is available to assist in investigations.
"We want law enforcement agencies to feel confident in the data they receive for investigations," Parker said.
BENEFITS TO LAW ENFORCEMENT
In addition to free training programs, OfferUp has a 24/7 hotline and quick records release to support ongoing investigations. This often translates into faster identification of bad actors and quicker closure of cases.
Other key services offered include:
A dedicated Special Investigations team that partners with law enforcement to handle a variety of high priority cases
Reviewing listed items and ensuring prohibited items don't make it to OfferUp's web pages
A NeighborUp dinner series that brings together community members, including law enforcement representatives, designed to foster open, solutions-oriented conversations about how to increase trust and solve community challenges
Creating community policing programs in line with COPs and leveraging partnership opportunities with OfferUp--including its Community MeetUp Spots program, free training programs and investigation support--will help law enforcement create a safer environment for local commerce.
*Check out OfferUp's booth at IACP in Philadelphia, Booth 1124.

Request information from OfferUp
Thank You!