Pa. drug criminal walks free after K-9 officer's death
K-9 Officer Umberto was put down by a vet after falling ill and a judge didn't allow his partner a continuance to grieve
---
By PoliceOne Staff
FOLCROFT, Pa. — A man charged with drug possession and intent to deliver walked free from a Delaware County court when the testifying officer didn't show — because he was mourning the loss of his K-9 partner.
K-9 Officer Umberto was put down by a vet Tuesday after falling ill, according to NBC Philadelphia.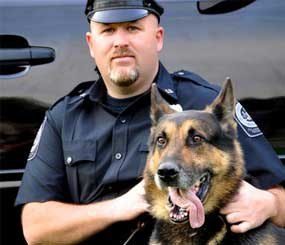 His partner and keeper, Cpl. Christopher Eiserman, was scheduled to testify on Wednesday at a preliminary hearing for Dennis McKenzie, Jr., but filed paperwork asking for a continuance of the hearing so he could grieve the loss of his partner.
Magisterial District Judge Horace Davis denied the request and the case against McKenzie was dismissed, according to the report.
"It is mind-boggling," said Folcroft Police Chief Robert Ruskowski. "What about common courtesy and respect? Obviously he's part of our force. He's not just a dog."
Ruskowski said the department asked the Delaware County District Attorney's Office to issue a rearrest warrant in the case. The paperwork is in the process of being filed.