Sanitize. Disinfect. Protect.
Your protective gear will thank you.
---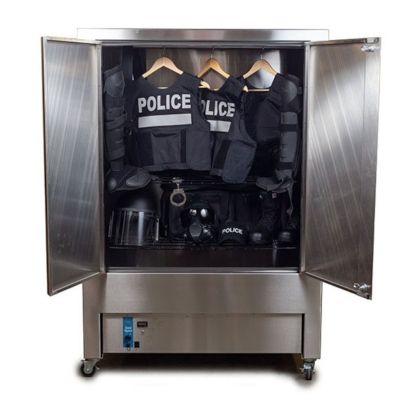 Sani DefenX technology significantly reduces harmful bacteria and odors in protective police gear to minimize potential illness and injury to your staff. All this is accomplished in a 12-minute cycle. The machine is fully self-contained and simply plugs into a standard 110v outlet. All gear can be treated including electrical attachments.
Sani DefenX machines are made from resilient stainless-steel right here in North America and are used by the US Army, the Department of Homeland Security, the US Marshal, police and others to disinfect helmets, ballistic vests, boots and other difficult-to-clean gear. To learn more about Sani DefenX machines and how they can keep your gear smelling good, please fill out the form to request more information. We look forward to hearing from you.

PLEASE FILL OUT THE FORM TO REQUEST MORE INFO
Thank You!