WildRose911.com
---
WildRose911.com
3901 E. La Palma Avenue Ste. A
Anaheim, CA 92807
Phone: 714-260-4867
Wild Rose 911 aka Wild Rose Motors is the only dealership specializing in selling and refurbishing used Police Vehicles such as the Ford Crown Victoria P71 Police Interceptor, Ford Explorer Interceptor, Chevy Impala SS, and Chevy Caprice.
Our commitment to quality, reliability and service to the customer has resulted in Wild Rose Motors Ltd's excellent reputation within the industry.
We offer prime financing, as well as sub-prime* financing and affordable deals on all of our quality ensured inventory. We are located in Anaheim, CA. (*Sub-prime financing only available to CA residents who qualify.)
Get 3 of our refurbished vehicles for the price of one lighter duty new and equipped vehicle.
We provide Ford's three year unlimited mileage warranty for engines and transmissions anywhere in the country.
The Crown Victoria Police Interceptor is a safer, more powerful vehicle with less maintenance cost to your department. It is a full-size vehicle with a large interior and a full-size trunk, perfect for police equipment. It has a full box chassis frame that is stronger than those on new vehicle, and is great for mounting equipment. We upgrade the braking system by adding high performance dot 4 racing brake fluid, which raises the boiling point of the brake fluid from 283 F to 689 F, making brake failure from overheating and boiling brake fluid a thing of the past!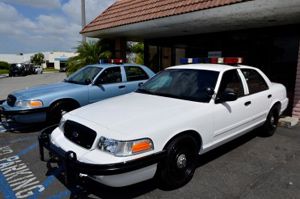 Please fill out the form below for more information:
Thank You!