WildRose911.com Saves Departments Millions Refurbishing for Large or Small Counties!
Refurbished vehicles are a THIRD OF THE PRICE of new vehicles, and the enhancements and refurbishing may be classed as maintenance, making them tax deductible!
---
Get 3 of our refurbished vehicles for the price of one lighter duty new and equipped vehicle.
We provide Ford's three year unlimited mileage warranty for engines and transmissions anywhere in the country.
The Crown Victoria Police Interceptor is a safer, more powerful vehicle with less maintenance cost to your department. It is a full-size vehicle with a large interior and a full-size trunk, perfect for police equipment. It has a full box chassis frame that is stronger than those on new vehicle, and is great for mounting equipment. We upgrade the braking system by adding high performance dot 4 racing brake fluid, which raises the boiling point of the brake fluid from 283 F to 689 F, making brake failure from overheating and boiling brake fluid a thing of the past!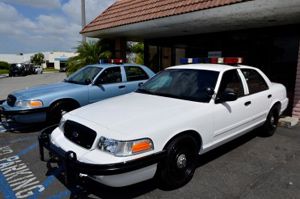 Please fill out the form below for more information:
Thank You!