During COVID-19, fallen officers go without funerals, memorials
The impact of bans on public gatherings to prevent the spread of the coronavirus has forced bereaved families to seek alternatives
---
Craig Sailor
The News Tribune
TACOMA, Wash. — Gov. Jay Inslee's ban on public gatherings to prevent the spread of the coronavirus includes funerals. The repercussions have been felt across cultures and inside funeral homes.
Memorials, viewings, sitting shiva, ritual cleansings, graveside services and military honors are forbidden under Inslee's orders.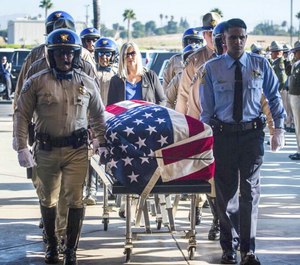 It will even affect the memorial for Washington State Patrol trooper Justin Schaffer, who was killed Tuesday during an attempt to stop a fleeing driver near Chehalis.
"You can't have a funeral," said Coretta Harwood, owner of Scott Funeral Home in Tacoma. "We can't have a group of people in an enclosed space for any type of gathering."
Harwood had to cancel four funerals and memorials the weekend of March 14-15.
"We are allowing one family member to identify the person," said Russ Weeks, the owner of Haven of Rest funeral home, cemetery and crematory in Gig Harbor.
Incremental shutdown
Like other aspects of the coronavirus crisis, the ban on funerals arrived in increments.
On March 11, Inslee banned gatherings of 250 or more people in Pierce, King and Snohomish counties. That was followed on March 13 with a ban on gatherings of 50 or more people statewide.
Inslee followed that up March 16 with a closure of bars and restaurants (but permitting takeout) and limits on social gatherings.
On March 19, the state Department of Licensing clarified Inslee's proclamation to include all funerals. On March 23, Inslee made the funeral ban official.
"There's some disappointed people," Harwood said Monday.
The ban is affecting a wide variety of cultures.
In the Muslim culture, family members would normally wash a loved one's body at the funeral home, Weeks said. Jewish families sit shiva — a vigil near their family member's body.
Now, both those acts are prohibited
Military honors put on hold
As of Monday, all committal services have been canceled at Tahoma National Cemetery and other national cemeteries across the nation.
Normally, the military honors ceremony would last 20-25 minutes and consist of two to 10 volunteer service honor guard members conducting a rifle salute, playing taps and folding and presenting the U.S. flag to a relative of the deceased. The service might also include a military chaplain.
Now, remains are being interred directly into the grave without any services, said Thomas Yokes, Tahoma National Cemetery director.
"The funeral home brings the remains, we take possession of them and do the internment," Yokes said. "There is no service prior to the internment."
With some outdoor interments, the cemetery is allowing 10 family members/friends or fewer to attend.
"We want them to practice the social distancing and the whole nine yards," Yokes said, referring to the practice of maintaining at least six feet from one another in settings outside the home.
In some cases, families with cremated remains are opting not to inter their loved ones until after the ban has been lifted and funerals can be held again. Although bodies must be interred immediately, families can still hold a service when the ban is over, Yokes said.
On average, the cemetery conducts 12 interments a day.
"We haven't had anybody that was too upset," Yokes said of family members. "Everybody is resigned to it."
Virtual funerals
Families, pushed by necessity and aided by technology, are increasingly holding virtual funerals. The most popular method is to create an invitation-only page on Facebook and then broadcast the ceremony live, Harwood said.
"That's the cleanest way it's going to be done because there's no time for platform development or implementation," Harwood said.
While the number of people attending a virtual memorial is unlimited, the actual service still has to follow government directives.
"The minister or celebrant would still be up there speaking," Harwood said. "You wouldn't have the singers or musicians. The music would be prerecorded."
The only people present would be the person conducting the service, the funeral director and the deceased.
CULTURAL IMPACT
With bans on both funerals and interactions with the deceased, cultures across the region are suffering the loss of closure, tradition and familial bonds that funerals can provide.
In some cultures, funeral practices can involve washing the body before burial and other intimate practices.
In Pacific Island culture, a funeral can involve hundreds of people and last for days, said Lua Pritchard, the executive director of the Asia Pacific Culture Center in Tacoma.
Pritchard, who is Samoan, said a funeral in her culture can vary in size and duration, depending on the age of the deceased and the status they held.
"If it's a well known person in the community, lots of ministers will come," Pritchard said. "Also, high chiefs will come from the island and all over the world."
Two recent funerals in the Pierce County Samoan community held before the ban ranged from about 200 participants for a young man and about 500 for a minister, she said. The minister's funeral lasted two weeks.
"Lots of food," she said. "Food all the time."
Pritchard said the younger, college-educated generations will help the older generations adjust to a new coronavirus era.
"There's going to be lots of change to the culture because of what's going on," she said.
Weeks said a few families have resisted the prohibition. He will not bend.
"We do the right thing," he said. "And the right thing is not to hold any services.".
Business impact
"It's definitely going to impact the bottom line," Harwood said. She also runs her own floral business. That industry has withered virtually overnight.
"I went to the floral warehouse on Friday — the day of the week where there's pretty much nothing left," she said. "They were fully stocked. There were cancellations after cancellations."
Following Inslee's order on Monday, the floral industry has shut down altogether.
Blitz and Company Florist has a note on its website stating it will be shut down between March 25 and April 7.
"We know flowers are a positive and uplifting experience," Blitz says on its website. "We will be back doing what we do as soon as possible."
PROTECTING FUNERAL WORKERS
Shortly after the coronavirus came to Washington state, Harwood called the CDC for guidance.
Since then, public health agencies and industry groups have published safety guidelines.
Harwood said she's had several COVID-19 victims come through the funeral home, all of them from King County.
Funeral directors must assume all deceased people could potentially have had the coronavirus, she said.
"The hospitals, because of (health privacy laws), aren't telling the funeral homes (cause of death)," Harwood said. "OK, which precautions do you take? Do you save your (PPE) gear for cases that you actively know have the virus?"
Rob Goff, the executive director of the Washington State Funeral Directors Association in Spokane Valley, said the notification process varies hospital to hospital.
"The hospitals do not have to share that with you upon the pickup of remains," Goff said. "But most do. It's very informal until you get a death certificate signed by a doctor."
A spokesperson with the DOH confirmed that hospitals are not required to disclose cause of death to funeral homes.
Because of that, Goff's agency recommends embalmers and other funeral home employees use universal precautions on all remains.
Goff, who has been in the funeral business for over 30 years, said the COVID-19 crisis is similar to the early days of the AIDS pandemic. That disease, caused by the human immunodeficiency virus (HIV), first emerged in 1981.
The many unknowns surrounding AIDS led funeral workers to use full personal protection equipment (PPE) when embalming people who died from AIDS and related causes.
"A lot of what we're going through today is what we learned going through the AIDS scare of the '80s and '90s," Goff said. "The PPE came from that time."
But HIV can't be transmitted through the air. The risk to embalmers was low as long as basic precautions were taken.
The funeral business gets a wake-up call every time a new infectious disease appears in the population, Goff said. He can quickly name a long list of diseases that has rattled his industry: Creutzfeldt-Jakob disease, H1N1, SARS, Ebola, MERS.
"The unfortunate thing is that we have to go through that," Goff said. "But we can learn from that."
McClatchy-Tribune News Service