Miami Beach police form squads to target out-of-towners flouting COVID-19 quarantine order
Officers will respond to tips from residents and will only cite or arrest individuals as a last resort, officials said
---
Charles Rabin and Martin Vassolo
Miami Herald
MIAMI BEACH, Fla. — Miami Beach police have formed quarantine crackdown squads targeting out-of-towners from four hot-spot states who flout a mandate that they self-isolate for 14 days after coming to Florida.
After initially contacting the visitors from New York, New Jersey, Connecticut and Louisiana, police remind them of the order issued late last month by Florida Gov. Ron DeSantis. Arresting potential violators is considered a last resort, said Miami Beach Police Chief Rick Clements. Officers will only respond to tips from residents and aren't busting down doors or stopping random people on the street.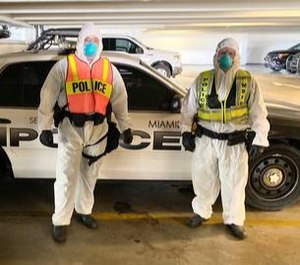 "The goal is just to be able to convey the message," Clements said Friday.
The squad members of the COVID-19 Quarantine Response Team -- shown in a promotional photo covered from head-to-toe in white hazard suits with hoodies and wearing goggles and matching white face masks -- resemble doctors from the 2011 Dustin Hoffman thriller Contagion.
The squads -- four, three-member groups -- began patrolling Thursday at the request of City Manager Jimmy Morales after calls from concerned residents about an influx of out-of-towers.
"I think we've been responding," said Mayor Dan Gelber. "We're assuming that there may be virus everywhere."
The decision to create the quarantine response team was also in response to a March 24 executive order signed by Gov. Ron DeSantis that targeted New Yorkers, who the governor said, were flocking to South Florida on packed flights in response to a stay-at-home order in that hard-hit state.
As of Friday, New York was the epicenter of the nation in the fight to stop the virus, having recorded more than 2,300 deaths and almost 100,000 confirmed cases of COVID-19, the deadly disease associated with the infection. New Jersey and Connecticut are also struggling to control the disease. And Louisiana's numbers began increasing rapidly two weeks ago, in large part medical experts believe, because the city of New Orleans went forward with Mardi Gras at the end of February, one of the largest gatherings of people annually in the U.S.
In Florida as of Friday, they were more than 9,300 reported cases of the virus and at least 163 deaths, with Miami-Dade being the hardest hit region in the state.
DeSantis's order mandates that residents of the four states who arrive by flight self-isolate for 14 days. When he signed the order more than a week ago, the governor said of New York, "I would reckon given the outbreak there, that every single flight has somebody on it who is positive for COVID-19."
Not adhering to the second-degree misdemeanor could land a person in jail for up to 60 days or land them a fine of $500, or both. Before instituting the order, the governor, who has the ear of President Donald J. Trump, discussed locking down parts of the tri-state area with the president. Trump flirted with the idea, mentioning the possibility publicly, before being forced to abandon the plan.
The squads don't have universal support. One city commissioner said dedicating a specialized team to enforce the quarantine order is a waste of police resources and verging on unconstitutional.
"At a time like this, this is not the best use of our first responders and scarce resources," said Commissioner Ricky Arriola. "We have to remember this is a time for us to be coming together and not snitching on fellow Americans because we suspect that they might have the virus."
Facing financial shortfalls amid an economic shutdown caused by coronavirus, the city administration has requested that overtime for police officers and firefighters be dramatically reduced or altogether eliminated.
"We're sending our police now to these calls and they have to get dressed up like this. It's taking away very valuable resources just because someone suspects someone else of" coming from a coronavirus hotspot , Arriola said. "Newsflash: everything's a hotspot."
Cops rely on resident complaints
On Thursday, a South Beach resident posted photos on Facebook of hazmat-clad officers checking the vehicles of a couple New Yorkers, who were accused of not using face masks or gloves while in common areas of the condominium.
"I want to THANK the Miami Beach PD. All 234 units at our South Beach condominium are very grateful to our brave first responders who put their own lives at risk during this pandemic because a few will not abide by rules to protect everyone's health," wrote journalist and author Gerald Posner. "We have had a couple that arrived a few days ago from New York and despite being told in person and in writing about the need for a 14-day quarantine per the Governor's order, they have repeatedly gone out in the building, using the elevators and other common elements, without gloves or masks."
Clements said since the initiative started Thursday, squads had visited three apartments and no arrests had been made.
"We make contact and remind them of the order," said Miami Beach Police Spokesman Ernesto Rodriguez. "Our goal is compliance. If ultimately necessary, an arrest is possible, but as a last resort."
Clements said officers chosen for the teams are picked in part based on their temperaments. The chief said when they do come upon visitors they give them a copy of the governor's order and then pass along information on where to find food on the beach and how to contact emergency services if necessary.
Clements said officers haven't run into any marauding mobs of tourists making their way through South Beach.
"When we first got the calls, I thought 'oh man, this is going to be a problem,'" said the Beach chief. "But the visitors have been very receptive, so far, and completely understanding."
McClatchy-Tribune News Service