Patchwork of COVID-19 laws challenge Fla. police
Law enforcement statewide are stepping up enforcement of an expanding array of directives to combat the coronavirus
---
Charles Rabin and Jay Weaver
Miami Herald
TAMPA — With the rules of public engagement in constant change, police across Florida are beginning to step up enforcement of a rapidly expanding array of directives to combat coronavirus. The only thing consistent so far is that nothing is consistent.
The sheriff in Hillsborough County drew a hard line in the sand on Monday, ordering the arrest of a pastor who defied a 10-person gathering limit and promoted services at his Tampa Bay megachurch on Sunday.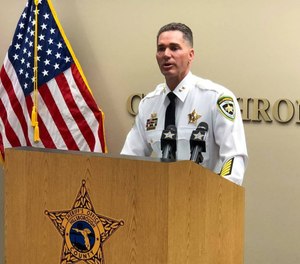 But in South Florida, full parking lots Sunday at places of worship like the Miami Shores Christian Church and the Haitian Emanuel Baptist Church in Little Haiti drew some social media criticism but no public warnings from law enforcement — despite similar crowd limits imposed in Miami-Dade County. In Miami Beach, meanwhile, where throngs of partying spring breakers amid a growing pandemic became a national symbol of what not to do, the city last week ordered places of worship shuttered all together.
Gov. Ron DeSantis on Monday extended the patchwork approach, issuing an executive order for residents to stay at home until perhaps mid-April (he initially mistakenly said mid-May) — but only in Southeast Florida. The rest of the state remains free to set varying rules county by county or city by city.
That's already happening with curfews.
In Miami, if someone is out past the city's 10 p.m. curfew, a cop might stop you, ask where you're headed, then send you home. In unincorporated Miami-Dade, there is no curfew. So county cops are largely keeping an eye on restaurants, particularly ones with ventanitas, outdoor windows that are popular gather spots for a cafecito or chat. If patrons aren't separated enough, an officer is likely to issue a warning or tell customers to head on home.
Tom Julin, a partner in the Miami firm Gunster Yoakley and a constitutional law expert, believes governments are operating on firm legal ground — even though the roll-out of what he called a "patch quilt" of rules can seem chaotic and reactive to the public.
"If you're out on the street and saying you have the freedom to walk around after a curfew, that's not going to get you very far because there is government justification [right now] to keep that in place," he said.
Historically, Julin said, the courts have ruled that if there is a "compelling interest" for governments to limit large gatherings, the churches, synagogues and mosques are expected to abide by the order — at least for the short-term.
"Right now, our courts are going to err on the side of caution in the interest of public health. But that could change in the future," said Julin. "At some point, houses of worship could argue like [President] Trump that the cure could be worse than the disease. It's a potentially legitimate concept."
WATCH LIVE: Sheriff Chad Chronister is addressing the media about the packed services held this past weekend at the River Tampa Bay church in Riverview. #teamhcso

Posted by Hillsborough County Sheriff's Office on Monday, March 30, 2020
Changing rules
Another challenge for law enforcement: the rules keep changing. For instance, on Monday, Miami-Dade Mayor Carlos Gimenez ordered all condos and apartments to close gyms and pools after reports of some people violating the social distancing rules. The mayor also warned residents to stay off of golf courses, where some people have been strolling, often in groups. It's not yet clear how those orders will be enforced or what kind of penalties violators might face.
Miami-Dade Police Chief of Communications Hector Llevat said police have to adjust, sometimes daily, to whatever new directive is handed down.
"It's an evolving situation. We stay tuned to what the direction is from the mayor as far as an emergency order," said Llevat. "But for us, it's pretty clear. We go by the emergency orders from the mayor's office."
Aside from the notable arrest of Pastor Rodney Howard-Browne in Hillsborough, most law enforcement agencies seemed to be taking a cautious approach to the challenging social crisis.
No one has been arrested, for example, since Miami's curfew went into effect at 10 p.m. on Friday. And with most people staying home, arrests are down in many communities. The light touch policy is present in Coral Gables where residents have been using now-closed Granada Golf Course to stroll and get some exercise — a practice Gimenez seemed to question.
"We're just reminding them about social distancing," said Coral Gables Police Chief Ed Hudak. "People are just exercising."
Coral Gables, like Miami, also has a curfew in place. But the "City Beautiful" implemented it for an entirely different reason than Miami. They imposed the curfew because of concerns that Miami's rules might send more people flooding into Coral Gables.
"Miami borders us on three sides. It's more of a crime prevention strategy," said Hudak.
So far, two people have been arrested for violating city curfews. A man was arrested Saturday night after walking near Krome Avenue in Homestead after he'd already been warned about the curfew. And, a woman was arrested on Miami Beach for refusing to leave Euclid Avenue after repeated warnings, and giving an officer a false address.
Both charges — misdemeanor counts of violating an order involving an emergency health disaster — had already been dropped by Monday.
In Miami Beach, spokeswoman Melissa Berthier said there have been few issues since the city was almost completely shut down two weeks ago — in part because of the young, massive spring break crowd that was refusing to abide by social distancing rules. Since then, the few businesses that have remained open other than grocery stores have been restaurants that are only permitted pickup and takeout service.
Berthier said with the streets so quiet, officers have been trying to enforce social distancing at Publix and other grocery stores.
"I don't think there's been a lot of issues," she said.
But Miami Beach Mayor Dan Gelber said on Monday he planned on ordering more strict enforcement after visiting some grocery stores over the weekend and noticing that social distancing guidelines were being ignored.
A few other cities like Sweetwater also have imposed curfews while unincorporated Miami-Dade has not. In Miami, Mayor Francis Suarez issued an order to shelter in place last week — but that had dozens of exceptions, included among them construction sites and private colleges. Earlier this week County Mayor Gimenez suspended inspections at construction sites in unincorporated Miami-Dade after several inspectors became ill with the virus and others self-isolated.
Religion and rules
Some of the biggest variations of rules — and law enforcement response — apply to houses of worship.
Miami Beach ordered every church and synagogue closed, the most stringent rules in South Florida. Though most congregations were following Mayor Gimenez's order to limit capacity and encourage social distancing, the county did not order closures.
To discourage large crowds, the Catholic Archdiocese of Miami put out a memo saying in-person worshipping was not an obligation during the pandemic. But two weeks ago, Pastor Guillermo Moldanado rebuffed the crowd control order at his Kendall megachurch, King Jesus International Ministry in Kendall. The pastor called COVID-19, the deadly disease caused by the coronavirus, a "demonic spirit" and told congregants that God would not allow anyone with the virus inside the church.
And, again on the most recent Sunday, worshippers turned out in mass at some places — drawing criticism from outsiders, but not citations.
Some residents were up in arms on Monday after pictures surfaced of a packed parking lot outside of the Miami Shores Christian Church on Northeast 101st Street and Second Avenue. Miami Shores Police Lt. David Golt said the building was apparently rented out by another congregation and city leaders were trying to contact them on Monday to learn about future plans and encourage smaller crowds or video services.
"Obviously we can't compel them to do something different," Golt said. "But I saw that and I was thinking, 'what are people thinking?'"
Golt said the rabbi at the synagogue he belongs to in Broward County sent a message to congregants urging them not to get together for the Sabbath or the upcoming holidays.
"He said to do something in your house, with your own family," Golt said.
In Little Haiti, parishioners at the Tabernacle Seventh-Day Adventist Church in Little Haiti have spent the past two weeks in "virtual services." Congregant Baldwyn English Jr. said whoever is leading the service in prayersong goes to the church and sets up a streaming device for congregants to visit.
It's worked quite well, according to English Jr., who said last week more than 1,000 people viewed the service on YouTube and another 800 on Facebook.
"The idea of presenting a service to an empty church is a bit awkward," English Jr. said. "However, a church is more than just four walls."
In Hillsborough County, law enforcement decided to get tough with the pastor of the River at Tampa Bay Church in Riverview. Hillsborough County Sheriff Chad Chronister said Howard-Browne had ignored requests the previous week and encouraged large turn-outs Sunday.
Howard-Browne, released on a $500 bond Monday, was charged with unlawful assembly and violation of public safety rules, both misdemeanors. Howard-Browne had claimed the virus was a hoax or no worse than the flu and he and supporters had previously called the gathering restrictions an infringement on religious rights.
Police and prosecutors did not agree. "His reckless disregard for human life put hundreds of people in his congregation at risk and thousands of residents who may interact with them in danger," Chronister said.
McClatchy-Tribune News Service