Preparing to deliver death notifications during a pandemic
If called upon to deliver a death notification during COVID-19, follow these steps to ensure a professional and empathic response
---
By November 1918, World War I was coming to an end having claimed the lives of over 9 million military personnel. At the same time, another more insidious and indiscriminate killer was making its way around the world: the 1918 Spanish Flu pandemic killed an estimated 40 to 50 million men, women and children between spring 1918 to summer 1920. [1]
Just as today, social distancing became the norm then, with the closure of many public and private facilities; public gatherings were banned, schools closed and business operations restricted. Additionally, there were reported shortages of doctors, nurses and, morbidly, even caskets for the deceased. [2] Looking back, the lessons learned from the1918 pandemic seem to have been lost in time. [2]
Along with all other sectors, law enforcement agencies are scrambling to manage operations suddenly made complicated by the COVID-19 pandemic. We must learn from the past so that we are adequately prepared for the future. Consequently, there should be little doubt that with this pandemic, death rates will increase and so will the demand for individuals to shoulder the responsibility to notify, in a dignified and empathic manner, those who have lost someone.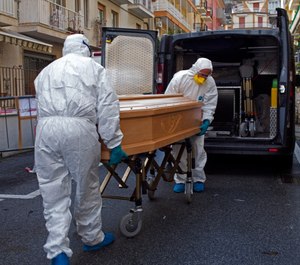 Death notification responsibilities
In general, the duty of death notification varies from jurisdiction to jurisdiction, depending on the cause of death, location and statutory requirements.
During a pandemic, traditional systems of death notification can become overwhelmed by the demand. Therefore, it is prudent for law enforcement officers to develop an understanding of best practices to perform death notifications, and of modifications to these practices that should be made in the context of the COVID-19 pandemic.
There is only one opportunity to give a notification, and the way it is delivered will never be forgotten by the family and friends of the decedent, and could negatively impact their lives forever.
Best Practices for Death Notifications
Agencies should provide training to officers before assigning them to perform death notifications. The training should include, at a minimum, a discussion of the following basic principles and an opportunity to role-play and practice making notifications under various scenarios. 
1. Prepare
Acquire as much information about the decedent's death as possible. Ensure the information you are delivering is accurate.
Determine whether additional services are necessary to establish effective communication with the people you are informing. When arranging a time to meet, inquire whether a member of the family has a hearing disability or speaks a language other than the one you are fluent in. Obtain the assistance of an appropriate interpreter, if necessary. Notifications should be made in person whenever possible.
Bring business cards with your contact information and a handout containing the contact information – names, phone numbers and email addresses – of resources so the family can make necessary arrangements for the disposition of the decedent's body and personal items.
2. Inform
Negative public perception of law enforcement officers may pose some challenges to officers conducting death notifications. Family members of a decedent may associate an officer with traumatic events and demonstrate mistrust and hostility. Officers should be aware of this possible bias and take steps to diffuse the prejudice and maintain officer safety.
It is advisable to conduct a notification in pairs. Two members act as a team to support one another, e.g., picking up the train of thought when it is lost or dealing with contingencies (someone in the group becoming combative). Consider having one team member be a chaplain or professional counselor, or a person with whom the family has an established rapport. [3]
Commit to delivering the news with sincerity, clarity and empathy. Identify who you are and that you are there to deliver bad news. If there was a delay in making the notification, explain the reasons for the delay concisely and truthfully. Demonstrate your attentiveness with good eye contact and a calm presence. Tell the family that their relative has died – avoid euphemisms such as "passed away" – and provide the details of the death from the last reference point known by the family. Be prepared to patiently repeat the information. Expect an emotional outburst from the family and maintain your composure, allowing space for the expression and witnessing it respectfully. Avoid impulses to provide sympathy (a recounting of your feelings when you were faced with traumatic events in the past), pass judgment, give solutions or promises that you cannot keep ("everything will be OK"), and to fill every silence with chatter.
Be helpful and responsive in the ways you can. Ask the family if they have questions and assess their understanding of the information you have conveyed. Provide the handout with the contact information of parties and resources who can be of assistance to the family. If there is certain information that must be withheld, explain what that information is, precisely why it may not be disclosed at the time and when it will be communicated if authorized. Identify a contact person within the family and maintain contact as requested by that person.
3. Document
Familiarize yourself with your agency's policies and procedures regarding required reports in the event of a death notification and follow them.
4. Debrief
Resources should be made available to officers making death notifications to help them cope with the emotions that may arise from participating in the process. Agencies should connect officers with peer counselors, professional counselors, or agency chaplains who can speak with members about their experiences. 
Modifications Due to COVID-19
Consider whether calling everyone affected together for one notification makes sense or if multiple notifications will be necessary, given the social distancing recommendations or orders in place in your jurisdiction. You should also consider whether the decedent was recently residing in the location suggested for the notification and be prepared to find another suitable location to meet if warranted.
If you must make multiple notifications within one family, attempt to give consistent information to each group.
Expect that the emotional response from family members will be heightened due to current stressors and vigilantly maintain situational awareness.
Under normal conditions, you could be asked to deliver the personal belongings of the decedent to the family. Under current conditions, it is advisable to inform family members where they may pick up the belongings rather than risk introducing contaminated items into your environment or theirs.
Follow current CDC guidelines regarding personal hygiene during and immediately after making the notification.
Summary
It is impossible to deliver a death notification that will not impact the decedent's family. However, the steps officers take to deliver the news in a professional, dignified and empathic manner can help reduce the lasting emotional effects for the officer and the survivors.  
References
1. Reid AH, Taubenberger JK, Fanning TG. The 1918 Spanish influenza: integrating history and biology Microbes and Infection 3, 2001, 81−87.
2. Shidler J. Tale of Two Cities: The 1918 Influenza. Journal of the Illinois State Historical Society (1998-), 103(2), 165-179. 
3. Moldovan E. The Bad News Bearers: The Most Difficult Assignment In Law Enforcement. In ProQuest Discovery Guide. Ann Arbor: ProQuest, 2009, pp. 1–23.
Bibliography
De Leo D, Anile C, Ziliotto A. Violent Deaths and Traumatic Bereavement: The Importance of Appropriate Death Notification. Humanities, 2015, 4(4):702-713.
Stewart AE, Lord JH, Mercer DL. Death Notification Education: A Needs Assessment Study. J Trauma Stress, 2001, 14, 221–227.