Armed officers placed at jail where shooting occurred
Officer Toamalama Scanlan remains in critical condition and Officer Juanita Davila is critical, but stable
---
Associated Press
FRESNO, Calif. — An official says an armed deputy and an armed correctional officer have been stationed in the lobby of the central California jail where an ex-convict opened fire and critically wounded two officers.
Sheriff's spokesman Tony Botti said Monday that Officer Toamalama Scanlan remains in critical condition and Officer Juanita Davila is critical, but stable.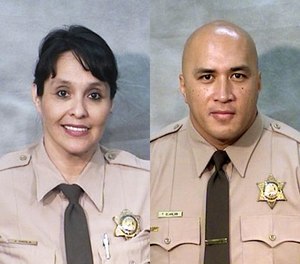 Visiting hours resumed Sunday evening when the jail lobby reopened.
The unarmed officers were shot in the head and neck areas during a struggle Saturday after they approached a man who cut to the front of the visitors' line.
Thong Vang was booked on suspicion of attempted murder, possessing a handgun as a felon and bringing drugs into a jail.
The 37-year-old was released from prison in 2014 after serving 16 years for raping three girls.
Copyright 2016 The Associated Press
Copyright Associated Press. All rights reserved. This material may not be published, broadcast, rewritten, or redistributed.