Report urges N.J. prison reforms to derail gangs
---
By Maya Rao
Philadelphia Inquirer
TRENTON, N.J. — Authorities across New Jersey periodically announce gang sweeps that net dozens or even hundreds of arrests and generate publicity on efforts to lower crime.
But what if the state's prison system has enough loopholes to allow those same gang members to freely operate criminal organizations from behind bars?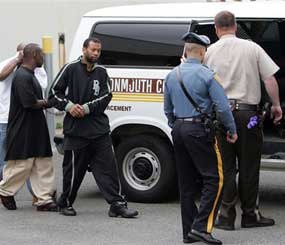 Saying taxpayers must have confidence that criminals are removed from society upon incarceration, the State Commission of Investigation (SCI) yesterday outlined suggested reforms following an 18-month examination into how gangs exploit vulnerabilities in the corrections system.
The commission released an 83-page report recommending major changes in visitation policies, security, staffing, departmental structure, personnel recruitment, and methods of identifying and monitoring gang members at the Department of Corrections.
The state's prisons have rarely been as challenged as in recent years by the "veritable flood tide" of inmates linked to criminal gangs - chiefly the Bloods - even as the system is not equipped to handle the problem, the commission determined.
Once a leader in devising innovative strategies to track gang members, the department has identification and intelligence systems that cannot deal with an "unprecedented and unrelenting stream of gang-affiliated inmates," the report said.
"Taxpayers are under the impression that when a criminal is locked away and sentenced to prison, that's the end of his criminal career. . . . And that's not necessarily true," said Lee Seglem, the commission's assistant director.
The SCI wants to curb the ease with which incarcerated gang members use prison as a recruiting ground for their ranks, arrange for visitors and a handful of corrupt guards to smuggle them drugs and cell phones, and use their inmate monetary accounts for extortion and buying contraband.
In one case, a cell phone seized from an incarcerated gang member showed records of 94 communications with people in four states, many referencing sets of the Bloods.
The commission's report in large part addressed how to improve the capabilities of the department's Special Investigations Division, which is charged with probing gang and other criminal activity while also investigating alleged wrongdoing among the same corrections officers on whom it relies for gang intelligence.
The report described a "toxic relationship" between the parties due to SID's competing responsibilities, and suggested moving the personnel investigative function to a new division.
Meanwhile, SID's Intelligence Unit - tasked with identifying gang members entering the system - should receive more staff and technical resources, the commission said.
One major problem the commission outlined was how New Jersey's law enforcement system has no centralized mechanism to track gang members at every step, from the streets to their arrest to their incarceration. Those agencies have no standardized criteria for identifying and gathering intelligence on gangs, and county jails aren't required to provide gang information when their inmates are transferred to the state system.
The SCI recommended creating a more comprehensive, integrated intelligence-gathering system to capture a wider range of information on gang activity, drawing on potential identifiers in an inmate's juvenile and adult criminal history and incidents that arise in the prisons.
The state, it suggested, could also establish a Gang Identification and Intelligence Task Force to design a uniform system to identify gang members and their associates and establish a central repository to store relevant information.
The report also examined how the prison system could clamp down on the visitation process, which is a substantial means of smuggling drugs and phones to inmates.
The SCI recommended conducting criminal background checks on visitors; standardizing entrance and exit operating procedures at the prisons; using drug- and cell-phone-detection devices; and removing visitor-room vending machines - a conduit for outsiders to smuggle contraband - while increasing staffing and surveillance in those areas.
With inmate accounts taking in $63.8 million between 2004 and 2008, the department should regularly scrutinize inmate accounts for activity, establish a centralized computerized system to manage inmate deposits and disbursements, and set up a free hotline that allows inmates and others to report extortion, the report said.
The SCI also suggested the department consider limiting the amount of money inmates can keep in their accounts.
Other recommendations included beefing up training and background checks for a host of people involved in the corrections process.
Department of Corrections spokesman Matthew Schuman declined to comment on the SCI report, saying he had not yet read it.
But the department has already taken steps to confront the problem, he said.
For example, he said, the department has acquired six cell-phone-sniffing dogs that have detected 75 phones since October. And since January 2008, the department has turned over to prosecutors 150 cases of people accused of smuggling cell phones to inmates, he said.
In Trenton yesterday, SCI Chairman W. Cary Edwards said, "We all recognize the severity of the current fiscal climate," but noted that some recommendations could be enacted at a minimal cost.
Calling gangs the "most serious crime issue in New Jersey today," Edwards said the SCI would continue to issue reports on the problem.