W.Va. jail officials restrict mug shot downloads
Format change aims to deter site from profiting
---
By Travis Crum
Charleston Gazette
HARRISON COUNTY, W.Va. — The state Regional Jail Authority has changed its website to deter a Harrison County man from making a profit from West Virginians' mug shots.
Since 2009, a man known only as "Mr. Watson" has maintained WVJails.info, a website cataloging photos and personal information of inmates from the state's 10 regional jails.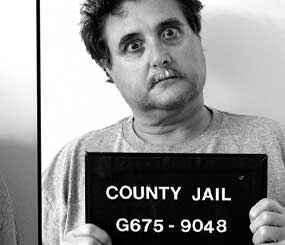 If someone wants their mug shot removed from Mr. Watson's site, they must pay a $55 "removal fee."
Ali Dabiri, database administrator for the state Office of Technology, said the website violates the Regional Jail Authority's terms of service prohibiting a "compilation of arrests, archive of booking photos, or other similar database of arrests."
"When someone is arrested, their mug shot is posted to the Regional Jail website, but it's removed immediately when they get released," Dabiri said.
"But this website [WV Jails] keeps them forever. Because of shame or whatever, people will pay the $55."
Dabiri, who has maintained the Regional Jails' website since 2007, estimates Mr. Watson's website contains about 60,000 mug shots. "That's about $3.3 million sitting there waiting to be cashed in," he said.
Earlier this month, Dabiri removed the option to download mug shots directly from the Regional Jail's website. Users now have to right-click in the upper corner of the photo to save it.
Mr. Watson maintains his website by downloading mug shots using a program, or "bot," Dabiri said. The recent changes now require Mr. Watson to download and upload the photos manually.
The WV Jails website has an address listed to a post office box in Clarksburg and a phone number that refers callers to USSupport.info, a nonworking website.
A Gazette reporter messaged WV Jail's Twitter account earlier this month to ask about its use of the mug shots.
"We do not need permission to publish public record. This is a first amendment right," it replied.
But Dabiri said Mr. Watson is not invoking an unalienable right to maintain his website - all photos published to the Regional Jail site are under copyright, Dabiri said.
It's also an invasion of privacy because the site logs an inmate's date of birth, height and weight and does not follow up if an inmate is acquitted of a crime.
"If enough people get together, they can file a lawsuit against this guy for potential identity theft," Dabiri said.
Copyright 2012 Charleston Newspapers