Calif. protesters march for 4th straight night
Hundreds marched through the streets for a fourth straight night, blocking traffic on a highway and delaying train services
---
Associated Press
BERKELEY, Calif. — Hundreds of Northern California protesters angered at the killing of unarmed black men by white officers briefly blocked traffic on a highway, hurled objects at police and delayed metro and train services as they protested for a fourth straight night.
The crowd on Tuesday temporarily shut down Highway 24, which connects Berkeley to Oakland. Witnesses told multiple media outlets that California Highway Patrol officers standing on a freeway overpass fired nonlethal projectiles to disperse the protesters below.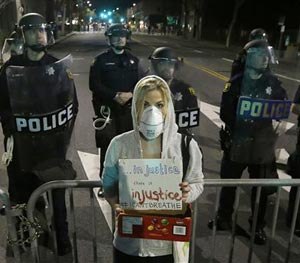 A police spokesman in nearby Emeryville told KNTV that said some protesters threw concrete chunks and bottles at officers and damaged some stores. Officer Brian Head said police will review surveillance video and possibly make arrests.
Authorities arrested at least 19 people Tuesday night. Berkeley police arrested five adults and one juvenile, and the Highway Patrol apprehended an additional 13.
The CHP and Berkeley and Emeryville police didn't immediately respond to emails from The Associated Press.
A demonstration Wednesday produced fewer fireworks. About 50 people tried to shut down a federal building in Oakland, where they chanted "white silence equals violence — black lives matter." Protesters blocked the front and back entrances to the building, but employees entered through side entrances. No arrests were reported at the peaceful demonstration.
"As white people, we are outraged by the constant and ongoing violations against black people's lives from Ferguson to Oakland to San Francisco to Cleveland to Staten Island," said Jason Wallach of Showing Up for Racial Justice prior to the protest.
Protesters have rallied for weeks following grand jury decisions not to indict a Ferguson, Missouri, officer in the killing of Michael Brown and a New York City officer captured on video applying a fatal chokehold on Eric Garner.
Berkeley has been the center of San Francisco Bay Area protests this week, and demonstrators have made claims that police used excessive force.
Mayor Tom Bates said some people have voiced support for police amid the criticism. He said in a statement Tuesday that 20 officers were injured Monday night and two went to the hospital during a violent protest when people threw fist-sized rocks, bricks and metal bars at officers who moved to disperse crowds that blocked an interstate and halted an Amtrak train.
"I recognize that under great stress abuses can occur in even the best departments," Bates said in the statement. "I support a full review of our response to investigate any improper use of force and also to learn lessons we can apply in the future."
Protesters on Tuesday stopped at City Hall, where a city councilman addressed the crowd and said he will ask for an investigation into the police response to the protests. The crowd was much smaller than the one Monday, but two Bay Area Rapid Transit stations were closed as a precaution and some Amtrak train service was suspended.
The more than 230 people arrested Monday night would face bails of up to $50,000, and many remain in custody, said Ernie Sanchez, assistant chief of the CHP's Golden Gate Division.
"The CHP respects the public's right to gather and demonstrate, but it needs to be done in a safe manner," Sanchez said. "At this point, they've made their statement, and we respect that. Now we're asking them to stop."
Copyright 2014 The Associated Press
Copyright Associated Press. All rights reserved. This material may not be published, broadcast, rewritten, or redistributed.