Occupy Oakland declare 'start of the spring offensive'
Melvin Kelley, a member of the group's Tactical Action Committee, said, "This is our new encampment until May 1, when we retake" Frank Ogawa Plaza
---
By Justin Berton
The San Francisco Chronicle
OAKLAND, Calif. — Occupy Oakland activists have set up a new encampment in a park north of downtown, calling it a response to the recent arrests of protesters in New York and the shooting death of an unarmed Florida teenager.
About a dozen people in six tents spent Wednesday night in Mosswood Park at Broadway and West MacArthur Boulevard. They were still there Thursday.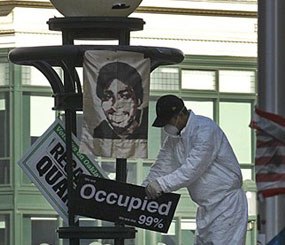 Police visited the group around 9 a.m. but did not ask them to leave, according to protesters.
"This is the start of the spring offensive," said Melvin Kelley, a member of the group's Tactical Action Committee. "This is our new encampment until May 1, when we retake" Frank Ogawa Plaza, which the group occupied last year.
Kelley said the activists had pitched tents to show support for Occupy Wall Street protesters who were arrested in New York's Zuccotti Park last week while commemorating the six-month anniversary of the movement.
They are also protesting the killing of Trayvon Martin, a 17-year-old African American who was shot to death by a white man in a gated community near Orlando, Fla., on Feb. 26. The man, George Zimmerman, says he was defending himself against the unarmed teen and has not been arrested.
Kelley said gathering at Mosswood Park, about a mile and a half north of Frank Ogawa Plaza, also allowed members with court-issued orders to stay away from City Hall to participate in meetings.
The group tried to settle at Snow Park at 19th and Harrison streets on Tuesday, but a continual police presence cleared them from the area, Kelley said.
In an attempt to confuse police, the group publicized false locations for a new encampment on Twitter until the true whereabouts were announced early Thursday.
Oakland officials and police have said since clearing Occupy's large encampment outside City Hall in November that they won't allow any more tent cities. Police did not respond Thursday to a request for comment about the Mosswood Park camp.
Shake Anderson, one of several Occupy activists to come to Mosswood after news spread through social media, said it could become an epicenter for the movement.
"Every encampment has a chance," he said. "It's a people's movement. And if enough people show up, that's where our power is."
"This is our new encampment until May 1, when we retake" Frank Ogawa Plaza."
Copyright 2012 San Francisco Chronicle