LE agencies struggle to find dispatchers
With burnout a constant, emergency communications centers are struggling with shortages of dispatchers so routine that agencies are virtually never fully staffed
---
By Toriano Porter
The Kansas City Star
KANSAS CITY, Kan. — No wonder it's so hard to keep emergency dispatchers on the job.
The women and men who answer our 911 calls and ensure help is on the way work nights, weekends and holidays in emotionally charged, stress-filled shifts where every second counts.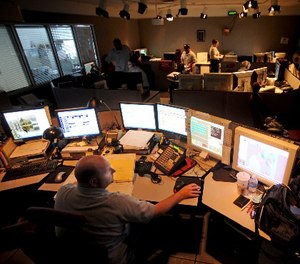 With burnout a constant, emergency communications centers throughout the metro area are struggling with shortages of dispatchers so routine that agencies are virtually never fully staffed. At one point recently in Independence, almost half the dispatching jobs were empty.
Officials say the shortages are not harming agencies' responses to emergencies but the vacancies feed the cycle: Overtime is often required to make up for worker shortages, meaning longer hours, more burnout. Shifts can average 12 hours.
"It's a nationwide problem," said Rhonda Harper, Independence's 9-1-1 administrator who oversees the Independence Police Department's emergency communication center.
Independence, Johnson County Emergency Communication Center and Kansas City had the highest number of open emergency dispatch positions, an informal Star survey of agencies around the metro area found. Lee's Summit — with 17 employees and one in training among 18 positions — had the lowest.
Independence is one of the most affected by shortages. In a department budgeted for 31 full-time positions, the city only employed 14 dispatchers and three shift supervisors at the beginning of the year. By February, eight employees were in training to start as dispatchers, leaving six vacancies.
Kansas City also had six vacancies among its 92 budgeted emergency communications positions. Four are currently in training.
Harper was hopeful her center would be fully staffed when the new budget year begins in July — if, of course, no one leaves.
When agencies lose dispatchers, it's not usually to another call center. Rather, the stressful nature of the job results in many workers leaving the occupation altogether.
"Unfortunately, that is the reality," she said.
The safety of the public, Harper said, is the department's priority. They often hire seasonal call takers, who simply take the call and then pass on the information to a dispatcher as a way to ensure calls are answered promptly, to help address staffing issues.
Hiring qualified staff, Harper said, is a must.
"Otherwise you're putting your citizens at risk and we won't do that." she said.
Harper's department uses traditional and non-traditional recruiting methods to find prospective employees, such as advertising and the use of social media.
Officers sometimes refer people.
Harper has resorted to passing out her business card while she dines at restaurants.
"Waitresses and waiters, they can make a great dispatcher because they can do that multitasking and they can talk to people," she said. "And that's a big part of this job."
How the system works
Mid-America Regional Council coordinates the region's 9-1-1 system, which comprises 44 public safety agencies in nine counties in Missouri and Kansas. It offers seminars and training to 9-1-1 operators as well.
The organization also works with agencies to help address the shortage of emergency dispatchers.
Emergency centers are staffed 24 hours a day, seven days a week throughout the year. Overtime is often required. Missing family gatherings and working weekends and holidays come with the territory, said Saralyn Hayes, MARC's 9-1-1 manager.
"We have to have somebody there to answer the call," she said.
Dispatchers' median average salary nationwide was $38,010 per year, or $18.27 per hour in 2015.
In Independence, the city's current job description for a dispatcher lists a salary between $19.01 and $23.44 per hour, which is higher than the national average.
Minimum requirements include a high school diploma or equivalent, a clean background check, and passing a written three-hour examination.
The process includes an interview, polygraph, psychological examination, hearing test and drug screening.
Challenging but rewarding job
As challenging as the occupation is, the position is rewarding for people like Theresa Hunter who want to serve a cause bigger than themselves.
Hunter is a dispatcher with the Jackson County Sheriff's Office. She has been in the field 35 years, including the last six with Jackson County. She has a soft spot for the well-being of the deputies. Her father was a Kansas City officer for 27 years.
"It's in my heart to take care of the deputies," Hunter said during a break from a training session at the MARC's office in Kansas City. "I've done other things, but it always comes back to the police part of it."
The personality traits of an emergency dispatcher vary, Hunter said. Some, she said, are a necessity: Patience. Selflessness. Effective communicator. Active listener.
"When citizens call, they usually call in the most horrible times of their lives," Hunter said. "We try to make their experience a little more pleasurable."
Call takers and dispatchers at the sheriff's office dispatch for deputies and seven other policing agencies in the area. They transfer emergency medical or fire calls to the nearest jurisdictions.
Navigating the needs of a caller while relaying information to deputies can be dicey, Hunter said.
"It's very under-appreciated," Hunter said.
Hunter's colleague Susie Wynn has spent 27 years with Jackson County. She said some people are just not cut out for the job.
"There is more to it than what people think," Wynn said. "We do more than just sit there and answer our phones."
Harper, a former dispatcher, said the unpredictable nature of the job is what keeps her in the industry.
"It's a great job," she said. "No two days are alike. I can't see myself in any other profession."
Training is key
Training and retaining emergency dispatchers is an ongoing, essential task, said Ben Chlapek, MARC's public safety training coordinator.
Most call takers are cross-trained to become dispatchers. Call takers receive information from a caller, then relay that to a dispatcher, who relays that information to emergency personnel in the field.
"It's one of the most difficult jobs that you would ever love," Chlapek said of dispatch work. "When you have lives on the line and you have people depending on you to act quickly and make good decisions … you have to utilize all of the tools that are provided to you."
Wynn said she and a group of four other employees from Jackson County received extra training through MARC this past fall. That has not always been doable, Wynn said.
"It's been times we just haven't had enough manpower to send someone to train," she said.
With the high turnover, agencies are constantly training employees to become dispatchers.
For example, the Clay County Sheriff's Department has one part-time and six full-time dispatchers for its 10 budgeted positions. Two more are in training, said Capt. William Akin, emergency management director for Clay County.
But another dispatcher was planning to leave.
Deputies as dispatchers
The Johnson County Sheriff's Office, which handles emergency calls for several municipalities in the county, takes a different approach to dispatching that helps shelter it from the usual staffing shortage headaches.
Operations are housed inside the Johnson County Emergency Communication Center.
Call takers and dispatchers at JCECC answer fire and EMS calls only; sworn deputies take calls and dispatch for fellow deputies and other officers in the field.
Lt. Paul Haynes is a deputy in charge of the communications division of the Johnson County Sheriff's Office. Haynes oversees 35 deputies within the division. The department currently has four vacancies and one deputy in training.
Johnson County is not hurting for personnel, Haynes said. They recruit from within.
"We have a pool of 400 deputies that we can pull from," he said.
Pulling from within gives a burned-out deputy on dispatching duty a chance to regroup without leaving the Sheriff's Office.
"They can transfer to another division," Haynes said, "so we don't lose employees over that."
Haynes added that five to 10 deputies are on duty per shift, per night.
Deputies dispatch for 11 municipalities, including Olathe, Gardner and Spring Hill.
"We stay busy," Haynes said.
Haynes said he chose to work in the communication division for selfless reasons. There is not a greater feeling than answering the call for help, he said.
"You know that you are helping people," Haynes said. "You can hear it in their voice."
———
©2017 The Kansas City Star (Kansas City, Mo.)
McClatchy-Tribune News Service