Mass. cop shot during attempted drug bust
The officer's injuries are not believed to be life-threatening; the gunman was arrested on attempted murder charges
---
By Gal Tziperman Lotan
Boston.com
NEW BEDFORD, Mass. — A police officer executing a search warrant for drugs was shot at a New Bedford apartment Friday night, police said. Two men inside the apartment were arrested; two other men and a woman were subpoenaed.
The officer's injuries are not life-threatening, according to Detective Lieutenant Joao Chaves.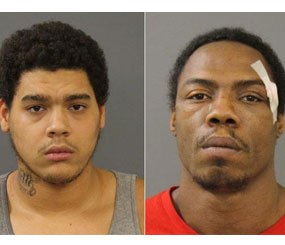 As officers hit the door, which was barricaded with a security bar, Nathan Manuel-Jackson, 20, of New Bedford, started shooting at them from inside the apartment, police said. One officer was hit; the rest took cover and called for backup.
Full Story: Police officer shot in New Bedford drug bust Friday night