Ariz. sheriff agrees to equip deputies with overdose reversal drug
All deputies would be issued doses of the lifesaving drug to carry in their individual first aid kits
---
The Arizona Daily Star, Tucson
PIMA COUNTY, Ariz. — In response to the increasing opioid crisis and concerns expressed by community members, the Pima County Sheriff's Department has changed its policy regarding deputies carrying the overdose reversal drug, Narcan.
The department said Wednesday that after undergoing training to recognize opioid overdoses and properly use Narcan Nasal Spray, all deputies would be issued doses of the lifesaving drug to carry in their individual first aid kits.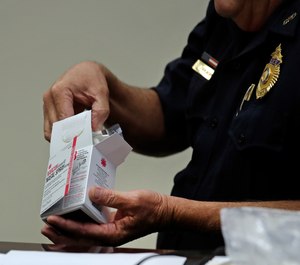 In July, the Star reported that Pima County Sheriff's Department was one of the few law enforcement agencies in Southern Arizona that did not issue Narcan to deputies. At the time, 11 of the 15 agencies in the state were using Narcan, but PCSD officials told the Star that because paramedics already carry Narcan, there was little need for deputies to also carry the drug. Department officials also expressed concerns about the drug's stability during Southern Arizona's extreme summer heat.
Pima County Sheriff Mark Napier told the Star Wednesday that while his concern still exists about Narcan's heat stability, the department has developed a way to use the drug that they think may work.
"While it is true that Narcan may degrade if exposed to heat over extended periods we learned that it may still maintain enough potency to possibly offer a lifesaving benefit to someone suffering an overdose," Napier told the Star. "Medical experts informed us that the worst result is that it would not be effective, but would not cause any harm."
The department has been continually evaluating its position on deputies carrying Narcan and working closely with medical experts over the past several months, Napier said.
"We revised our position based on medical advice, the increasing nature of the overdose problem and in response to community concerns," Napier said. "We still believe it is unlikely that our personnel will arrive before EMS due to the vast area we deploy our resources and ideally Narcan would be administered by EMS personnel."
Narcan will be provided at no cost to the Sheriff's Department by the Arizona Department of Health Services.
In early November, Tucson Police Chief Chris Magnus held a press conference to announce several recent "saves" by officers who were carrying Narcan, seemingly calling out PCSD for not carrying the drug.
"But we've got a problem. Not every law enforcement agency in our state or for that matter, in our region, issues this life-saving drug to their officers or deputies, even though it's safe, easy to use, and relatively inexpensive," Magnus said during the press conference.
Napier said at the time that "routine deployment" of Narcan was simply not feasible, but the department's position shouldn't be construed as a lack of compassion for victims or support for the life-saving drug.
A month later, during the December 4 Pima County Board of Supervisors meeting, several community members spoke during the call to the audience, urging the Sheriff's Department to revise its policy on deputies carrying Narcan.
Napier told the Star Wednesday that given the circumstances, he believes the change in policy is both "reasonable and appropriate."
Respond: Write a letter to the editor | Write a guest opinion
Contact reporter Caitlin Schmidt at cschmidt@tucson.com or 573-4191. Twitter: @caitlincschmidt
———
©2019 The Arizona Daily Star (Tucson, Ariz.)
McClatchy-Tribune News Service