NYPD campaign focuses on good Samaritan law
The good Samaritan law allows people to call 911 to seek medical help for someone overdosing on drugs or alcohol without fear of being arrested
---
By Anthony M. Destefano
Newsday
NEW YORK — With drug overdoses increasing this year at a faster pace than 2016, the NYPD and other city officials on Wednesday kicked off a public service campaign designed to encourage people who are overdosing to call 911 without fear of being arrested.
The campaign will include ads on mobile billboards, in subways, busses, ferry terminals and social media venues in an effort to let both drug users and those trying to help that the state's good Samaritan law protects them from being prosecuted in the event of an overdose.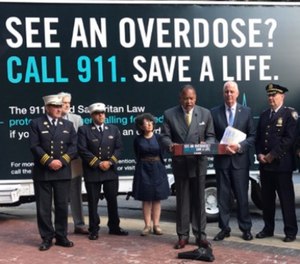 "Right now we are seeing a significant number of our New Yorkers struggling with drug abuse who could use our help," said NYPD First Deputy Commissioner Benjamin Tucker at a Wednesday news conference announcing the program.
Because the Bronx and Staten Island have the most overdose deaths, the billboards will travel the streets in those boroughs, Tucker said.
The good Samaritan law allows people to call 911 to seek medical help for someone overdosing on drugs or alcohol without fear of being arrested. One exception to the protection is if the person is in possession of at least eight ounces of a controlled substance.
In 2016, the city recorded 1,374 overdose deaths, compared to about 980 in 2015. Of those deaths, 82 percent were attributed to opioid use, police said. So far this year, the city has recorded 432 such deaths compared to 359 in the same period a year ago, an increase of 20 percent, said Chief of Detectives Robert Boyce. Officials said the spike in deaths is attributed to the use of fentanyl to boost the effects of heroin.
"Call 911, alert the authorities if you see someone showing signs of an overdose," Tucker said. "In doing so, you can save that person's life. We encourage you to do so and not worry about helping because you will be protected by our state's good Samaritan law."
Tucker said the department and the FDNY have had success using the antidote naloxone to revive people who have overdosed.
———
©2017 Newsday
McClatchy-Tribune News Service