Drunken driver gets 12 years plus in death of Pa. police officer
A man was sentenced Tuesday to at least 12 years in prison on third-degree murder, drunken driving and other charges for a wrong-way crash that killed an officer
---
Associated Press
GREENSBURG, Pa. — A man was sentenced Tuesday to at least 12 years in prison on third-degree murder, drunken driving and other charges for a wrong-way crash that killed a western Pennsylvania police officer.
Clair Fink III was sentenced by a Westmoreland County judge for the 2015 accident.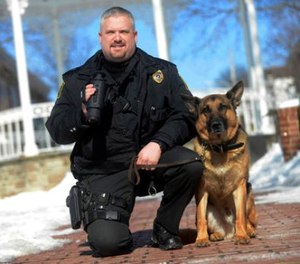 The 33-year-old Ligonier man pleaded guilty in September in the head-on crash that killed Ligonier Township Police Lt. Eric Eslary in May 2015. The crash left Eslary's police dog injured.
Fink and a co-worker had spent the night drinking before the crash.
Police contend Fink drank seven to nine 16-ounce beers from an 18-pack he split with a co-worker after they clocked out of their job at a swimming pool installation business around 7 p.m. on May 4, 2015. Fink was driving a work van home more than 20 miles away, drinking and stopping at a strip club with his co-worker, before unwittingly driving east in the westbound lanes of the divided Route 30 for about 4 miles and smashing head-on into Eslary's patrol SUV at about 2 a.m. on May 5, 2015.
Fink has apologized to Eslary's family.
"There's nothing that words could describe what I feel or that I could do to change it," Fink told reporters while in tears after his arraignment. "But I mean I am sorry and I wish I could go back and change time."
Eslary's widow, then a 911 dispatcher and now the county's emergency management spokeswoman, is raising six children in their blended family.
Fink's sentence is 12 to 30 years in prison. The third-degree murder charge, the most serious Fink faced, carried up to 40 years in prison.
Copyright Associated Press. All rights reserved. This material may not be published, broadcast, rewritten, or redistributed.