Police history: Why Charles LeFlore is one of the best western lawmen you never heard of
Lawmen in Oklahoma Territory faced challenges that are unfathomable today
---
Arguably one of the best western lawmen you never heard of was Charles Leflore, who served in the Oklahoma Territory as a U.S. deputy marshal, railroad detective and captain of the Choctaw Lighthorse Police.
The "Katy Train" Gun Battle
In 1882, LeFlore joined the Choctaw Lighthorse Police, which was established to enforce the law, keep the peace and pursue dangerous felons in Oklahoma Indian Territory. The next year, Leflore added U.S. deputy marshal – operating out of Fort Smith – to his resume.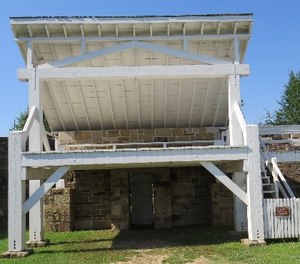 Lawmen in Oklahoma Territory faced challenges that are unfathomable today. For example, in 1884 Leflore and fellow Lighthorse Police officers prepared to interdict the "Christie Gang" who were about to rob a "Katy Train" (Missouri-Kansas-Texas Railroad, also known as KT) at a water tower stop.   
When 25 gang members rode up and spotted the Choctaw Lighthorse Police stakeout, a pitched battle erupted. One of the many bullets flying hit a wooden support for the tower, causing a large splinter of wood to fly up and become impaled in a Lighthorse officer's eye. The wounded man turned toward Leflore and triumphantly declared, "We have them whipped. They are out of ammunition and now are shooting at us with bows and arrows." Seemingly unphased by his terrible wound, the indomitable Choctaw Copper returned to the fight.
After decimating the gang in this fierce gun battle, Leflore and his men loaded five dead outlaws and many wounded prisoners aboard the very train that was the target of the robbery. Gang members received a one-way ticket to either their trial or their funeral, depending on their post-fight circumstance.
Dick Glass
In 1885, U.S. Deputy Marshal and Lighthorse Captain Sam Sixkiller, along with Leflore, set out to capture Dick Glass. Glass was a Creek Freedman whose continuous depredations threatened the peace between the Creek and Cherokee nations.
Glass was stopped by the lawmen at Colbert Landing on the Red River near Denison, Texas, carrying a wagon load of illegal whiskey. Glass cleared leather after a surrender demand and was cut down by Sixkiller's shotgun. Jim Johnson was an accomplice who also fought the law, but the law won just as definitively. Another gang member fled on horseback, but Leflore, who was an exceptional horseman, ran him to ground after a wild six-mile pursuit.
Glass's demise eased Creek-Cherokee tensions.
Lighthorse Captains Murdered
September of 1886 in Muskogee, Sixkiller and Leflore attempted to quell a moonshine-induced disturbance. For their efforts, the miscreants, Black Hoyt and Jess Nicholson, opened fire. Nicholson wounded Sixkiller, as Leflore drew fast as a muzzle flash and shot Nicholson, inspiring Hoyt's surrender. Nicholson fled, only to drop dead shortly thereafter.
Two bad men, Alf Cunningham and Dick Vann, celebrated Christmas Eve of 1886 by beating a Muskogee City marshal mercilessly. They stole his shotgun and pistol and extemporaneously planned an ambush, when they recognized Marshal Sixkiller off duty and unarmed.  He had just purchased medicine because he was feeling poorly. As Marshall Sixkiller stepped off a platform unaware, Cunningham shoved his stolen shotgun into Sixkiller's chest, but Sam instinctively knocked it aside. Vann stepped forward and shot Sam dead and both men fled.
After Sixkiller's replacement William Fields was murdered attempting a felony arrest just outside Eufaula, Leflore was promoted to captain of the Choctaw Lighthorse.
Captain Leflore's first major action was to apprehend Gus Bogels who had murdered a miner named J.D. Morgan. Leflore also collared another killer, Steve Bussel, in Denison, Texas. Both were taken before Judge Isaac Parker, who was known as The Hanging Judge. True to form, Parker sentenced Bogels, who took a long drop into eternity on July 6, 1888. Bussel fared better, receiving a life sentence.
Adair gun battle
In 1890, Lighthorse officers Charles Leflore, Alf McCay and Bud Kell were aboard Train Number 2 with U.S. Deputy Marshal Sid Johnson and Railroad Detective J.J. Kinney as it pulled into the Adair Station. As it turned out, the "Dalton Gang" had captured the train station and boarded the train brandishing Colts and Winchesters announcing a robbery. The gang was met by an unsuspected firestorm of bullets fired from the law men, who had taken up a position in a coal shed adjacent to the train.
The quick-thinking Daltons gathered unarmed passengers and formed a human shield. They successfully escaped, guns blazing all the way, using innocent humans as cover. Leflore caught a slug during this volley after it shattered his rifle stock.  
In 1892, the Daltons squared off with armed citizens, while trying to rob two banks simultaneously in Coffeyville, Kansas. This time the gang members were shot into early graves.
Salt in the Wound
Leflore would survive many gun fights and several bullet wounds. During one fight, three wanted criminals chose death before surrender. Leflore obliged. Afterward, Leflore realized the summer heat would bloat the bodies on the return trip. To ensure the wanted suspects could be properly identified, Leflore salted the bodies like he would sides of beef, thus preserving them for proper identification in Fort Smith.
Who says Law Enforcement is No Picnic?
If the suspects did surrender, Leflore would reward them by bringing them to his own home, which was located between many capture locations and Fort Smith. Leflore chained his prisoners to a large tree in his front yard. He would prepare a home-cooked meal and serve it picnic style under the shade of this tree. After all, for some, it was their last ride as the gallows lay ahead.
Long, Honorable Service
So exceptional was Charles Leflore, when the Federal Courts transferred out of Fort Smith in 1890, LeFlore was kept on as a U.S. deputy marshal. He would continue to serve out of Paris, Texas, until his retirement in 1905.
On September 10, 1920, the legendary Choctaw Lawman Captain Charles Leflore died peacefully in his home in Limestone Gap, Oklahoma, at the age of 79, knowing, thanks to men like himself that the "Wild West" was a fading dream.
Thanks to Professor Art T. Burton, the learned resource for this story.