7 babies in 6 months: Photo shoot shows Ky. trooper baby boom
One mother, whose husband is a detective with Kentucky State Police, reached out to a photographer when she realized how many troopers were about to have babies
---
By Morgan Eads
Lexington Herald-Leader
LEXINGTON, Ky. — There's been a baby boom among Kentucky State Police troopers' families, and a local photographer stepped up this weekend to document the occasion.
Photographer Vicky Puckett, of Hueit Photography by Vicky Lea, gathered seven state troopers in Georgetown Sunday along with their young babies and took pictures that ended up getting a lot of attention on social media.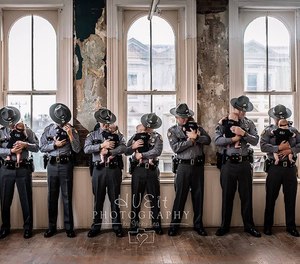 Of the seven babies, five girls and two boys, the oldest was about 6 months old and the youngest was just 8 days old, Puckett said.
Alison Chavies, whose husband is a detective with Kentucky State Police, reached out to Puckett when she realized how many troopers were about to have babies.
"It was such a special time for the wives to be pregnant together, kind of therapeutic, someone to always talk to," Chavies said. "Not only for us, but the dads too. And now our kids will grow up together."
Chavies wanted to find a way to celebrate the occasion and get everyone together. Her husband, Tye Chavies, was not so sure at first.
"When my wife first mentioned it, I was somewhat apprehensive to the idea," Tye Chavies said. "Once my son arrived, I was on board, then it was just a matter of waiting on some others to arrive."
On the big day of the pictures being taken, each of the babies wore a specially-made onesie and their dads wore their Kentucky State Police uniforms.
"You have seven tough guys walking into a room, and you could tell instantly these babies, mine included, had us wrapped around their fingers," Tye Chavies said.
While most of the babies were pretty happy throughout the process, the photography session was not completely without complications. At one point, every single baby started crying, Puckett said.
"There were some moments of chaos, as it was some of the parents first time out of the house, and when all of them started crying the dads started laughing," Tye Chavies said.
The photography session was well worth it, the Chavies family said.
"(Vicky Puckett) stayed calm the whole time and was able to corral seven men and seven babies to take pictures together without having a meltdown," Alison Chavies said. "We cannot wait to see all the photos and cannot thank her enough for capturing this special time in our lives we will be able to cherish forever."
As the children grow, Alison Chavies said she thinks they will stay close.
"They may not go to the same school, but we will always be a part of the same family, the Thin Gray Line," Alison Chavies said.
After the session with the troopers and their families, Puckett was inspired and she and her husband brainstormed a way to give back to first responders. In the end, they decided to have a giveaway of seven free family photography sessions for first responders, Puckett said.
Puckett is taking submissions for the giveaway, and a drawing will be held Monday, Nov. 26.
"Even though these police officers are out here protecting us and saving lives, they have babies to come home to, and a lot of people don't think about that," Puckett said.
McClatchy-Tribune News Service