Top-ranked Baltimore officer cleared in Freddie Gray case
Lt. Brian Rice appeared visibly relieved and hugged his attorneys after the findings were read aloud
---
By David McFadden
Associated Press
BALTIMORE — A police disciplinary board cleared the highest-ranking Baltimore officer involved in the 2015 arrest of a young black man who died from a spinal cord injury he sustained in a police van.
The three-member board ruled Friday that Lt. Brian Rice was not guilty on all administrative charges, meaning he can keep his job.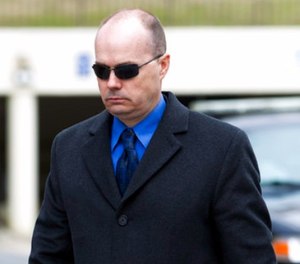 He appeared visibly relieved and hugged his attorneys after the findings were read aloud. Rice's lawyer, Michael Davey, later said the lieutenant is extremely happy.
Gray's death was "a terrible tragedy, and honestly that's all it was," Davey said. That tragedy is "not lost on anybody, especially Lt. Rice due to the fact he was there."
Rice, who also was acquitted of criminal charges, plans to take a week off to spend time with his family before returning to work, Davey said.
The 10 administrative charges Rice faced focused on how he handled himself as shift commander on the day of Gray's arrest and transport. The charges ranged from failing to ensure Gray's safety by not strapping him with a seat belt, to incompetence, to failure to monitor communications.
Gray was arrested April 12, 2015, after running from an officer on bike patrol outside a public housing project. A neighbor's video showed him handcuffed behind his back and hoisted into a police van. Officers later shackled his feet as well and put him face-down on the floor of the metal compartment. The van made a total of six stops during the roughly 45-minute journey to the nearby station. Gray was found unresponsive with a broken neck on arrival, and died a week later.
The treatment of the 25-year-old by police set off Baltimore's worst riots in decades and led to a federal investigation into allegations of police abuse. Baltimore and the Justice Department entered into a reform agreement after a scathing report by the federal agency outlined widespread misconduct and abuse within the city's police department.
Neil Duke, the lead attorney for the police department, argued that Rice must face disciplinary actions because he was the officer in charge. He didn't follow protocol in his leadership role, he argued, including failing to put Gray in a seatbelt and neglecting to act after he was told by a subordinate that the detained man appeared "lethargic" at the fifth stop.
"This is all about accepting personal responsibility. Leaders lead, others make excuses," Duke said during his closing arguments.
But Davey, Rice's lawyer, argued that the prosecution failed to provide any evidence that could possibly justify discipline leading to the lieutenant losing his job.
"The evidence of this case, presented to you by the department, didn't even come close," Davey said.
Davey argued that the police transport vans were "inherently dangerous" at the time. He also said Gray was "combative and violent" up to the van's fifth stop. He noted that responding officers testified that Gray's lack of cooperation attracted onlookers in the high-crime neighborhood, threatening the officers' safety.
The same panel recently found the van's driver, Officer Caesar Goodson, not guilty of 21 charges.
Baltimore's mayor has said she will renew efforts to persuade the legislature to add two civilians to police trial boards. Police union opposition has kept civilians off such panels in Baltimore, even as civilians join police in handling complaints in other cities.
One other officer, Sgt. Alicia White, still faces a trial board and possible termination. She is due to go to trial on Dec. 5.
Copyright Associated Press. All rights reserved. This material may not be published, broadcast, rewritten, or redistributed.