NY top cop: Troopers will aid efforts to combat MS-13 gang
Police Commissioner Timothy Sini said the police department is making targeted street arrests, continuing to cooperate with federal authorities and increasing patrols
---
By David M. Schwartz
Newsday
SUFFOLK, N.Y. — Suffolk Police Commissioner Timothy Sini said Thursday state troopers will begin increased patrols of parks and other state-owned land in the Brentwood and Central Islip area to help the county combat the MS-13 gang.
Sini told county lawmakers the gang — suspected in the killings of four young men in Central Islip last week — along with the opioid crisis are the top challenges facing the police department.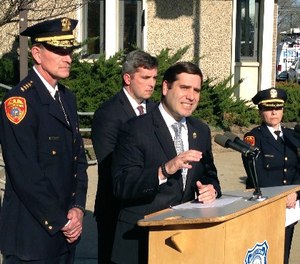 "Obviously, this is a huge issue for Suffolk County and many other communities," Sini told the legislature's Public Safety Committee meeting during a marathon three-hour testimony in Hauppauge. "The level of violence is unprecedented."
Sini said to combat the gang, the police department was making targeted street arrests, continuing to cooperate with federal authorities and increasing patrols.
Among the areas where state troopers would help is the former Pilgrim State Hospital in Brentwood, Sini told reporters after the legislative hearing.
"Essentially, we've mapped out all the state property in the area, and we'll be sharing intelligence with New York police so they can do targeted patrols of the areas that may attract MS-13 gang members," Sini said. Assistant Police Commissioner Justin Meyers declined to identify other locations.
Beau Duffy, spokesman for the New York State Police, said late Thursday: "We haven't committed to anything specific yet. The governor is in discussions with the county executive."
On Wednesday, Gov. Andrew M. Cuomo said he was prepared to offer resources to help the county combat MS-13 violence, which Cuomo called an "out of control" situation.
"The more resources we have the better," Legis. Monica Martinez (D-Brentwood) said Thursday. "At this point, we need all levels of government on deck." She and Sini credited Legis. Tom Cilmi (R-Bay Shore) with writing a letter to the governor asking for increased patrols.
Sini said homicides are up from eight in 2016 to nine year to date in 2017, although violent and property crimes are down.
Meyers said that news conferences are an effort "to be as transparent as possible" and three-quarters of the news conferences come to fulfill media requests.
Lawmakers also asked Sini about rising police overtime costs, which exceeded the budgeted amount by $14 million in 2016.
Sini said they were rolling out new software to help track staffing levels. New police hires would also help him stop the increases, he said, though he acknowledged that there are provisions in the police contracts that "tie his hands" on staffing issues. Police overtime hours are up more than 50 percent since 2011.
In a tense moment, Legis. Robert Trotta (R-Fort Salonga) asked Sini about his political ambitions. Sini, a Democrat, has screened with the county Conservative Party committee for a possible run for county district attorney this fall.
"I'm concerned these news conferences are more about running DA, than running the police department," Trotta said. "Are you running for DA?"
Sini said, "I'm not going to answer that question."
Sini said morale is up in the police department since he took office last February after the retirement of former Chief of Department James Burke, who is in federal prison for beating a suspect and orchestrating a cover-up.
Sini also said a security alarm registration program has reduced the number of 911 calls.
———
©2017 Newsday
McClatchy-Tribune News Service