How to become a border patrol or ICE agent
President Donald Trump has called for adding 10,000 ICE agents and 5,000 Border Patrol agents as part of his immigration plan
---
By PoliceOne Staff
President Donald Trump has called for adding 10,000 Immigration and Customs Enforcement (ICE) agents and 5,000 Customs and Border Protection (CBP) agents as part of his immigration plan. Here's a breakdown of the process to become a border or ICE agent, the job responsibilities and how much these positions pay.
How do you become a border patrol agent?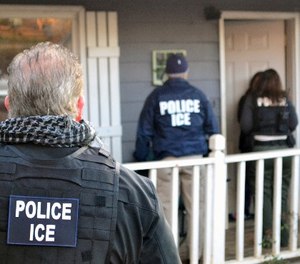 The basic requirements for eligibility to work for Customs and Border Patrol are:
Be a U.S. citizen.
Have a valid driver's license.
Resided in the U.S. for at least three of the last five years (with exception to those in the military).
Eligible to carry a firearm.
Referred for selection prior to your 40th birthday (this can be waived for veterans or those who have previously served in a federal civilian law enforcement position).
Willing to travel.
From there, the employment process is:
Submit an application.
Take an entrance exam.
Take a medical exam.
Take a basic physical fitness test (CBP offers reciprocity to veterans who have recently completed a military medical or fitness test).
Undergo a scenario-based panel interview.
Take a polygraph (per the National Defense Authorization Act, this can be waived if you're a veteran who already has an active TS/SCI security clearance).
Pass a background check.
Pass a random drug test.
It's a 160-day process, and CBP has "hiring hubs" where the majority of the steps are taken in one location during a weekend. Common disqualifiers are the use of illegal drugs and criminal convictions.
Once hired, border patrol agents undergo 58 days of law courses, a 40-day Spanish program, physical training, and driving and firearms instruction.
You can find open positions and submit an application here.
How do you become an ICE agent?
This varies depending on the position, but the general requirements and hiring process for a career in ICE are:
Must be younger than 37 (with an exception made to military veterans and those in other government law enforcement positions).
Have at least a bachelor's degree.
Take an entrance exam.
Take a physical exam.
Take a medical exam.
Pass a drug test.
Pass a background check.
According to CNN Money, past drug use or financial problems could cause an issue, but don't automatically disqualify a candidate.
The entire process takes two to four months, but the process for some positions may take longer due to a backlog of candidates or a deeper security check requirement.
Once you've gone through these steps, you will undergo a 16-week basic training program, including a five-week Spanish course, seven written tests and a second physical assessment.
You can find open positions here.
What are the job responsibilities?
Border Patrol agents (you guessed it) patrol the border. Primary responsibilities are protecting the U.S. from illegal immigration, terrorism, and drug and human trafficking through methods like surveillance, tracking, patrols and vehicle stops.
During your career, you may have the opportunity to join a specialized unit. These include mounted patrol, bike patrol, the K-9 unit, off-road vehicle units, rapid response teams, peer support, chaplaincy, and honor guard.
ICE agents perform a variety of tasks depending on the area of focus and the position. The two primary divisions are immigration enforcement and removal operations as well as homeland security operations. For the former, responsibilities related to immigrant detention and deportation (investigations, arrests, prosecution) are the primary focus. The latter handles investigations involving terrorism and other threats to national security, drug and human trafficking, illegal arms export, financial crimes, and more.
How much does it pay?
Around $63,000 a year for an entry-level ICE agent. Border Patrol agents start at around $52,000 a year.