ICE arrests 680 in Miss. in largest raid in a decade
ICE described the raid as the "largest single-state [work site] enforcement action in history"
---
By Tim Balk
New York Daily News
MORTON, Miss. — U.S. immigration officials swept through food-processing factories in Mississippi on Wednesday, arresting 680 workers in one of the largest workplace crackdowns ever, Immigration and Customs Enforcement said.
ICE described the raid, which spanned seven plants and six Mississippi cities, as the "largest single-state [work site] enforcement action in history," in a tweet.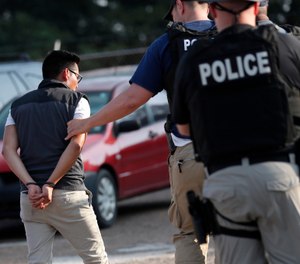 Most arrested were Latino workers, according to the AP.
ICE said in a news release that those arrested in the raid were being "interviewed by ICE staff to record any potential mitigating humanitarian situations." The interviews would help determine who would be released, the agency said.
"It was a sad situation inside," Domingo Candelaria, a legal resident and employee at a Koch Foods Inc. plant targeted in the raid, told the AP. She said officials checked workers' ID documents at the Morton, Miss., factory.
The raids were planned months ago and transpired hours before President Trump visited El Paso, Texas. Trump was met by hundreds of protesters Wednesday when he parachuted into the majority-Latino border city where a man -- allegedly linked to a hate-filled manifesto warning of a "Hispanic invasion" -- gunned down more than 20 over the weekend.
More than 600 agents helped with the sweeps. "While we are a nation of immigrants, more than that, we are first and foremost a nation of laws," Mike Hurst, the U.S. attorney for Mississippi, told reporters in a news conference on the sting.
John Sandweg, former acting director of ICE under the Obama administration, told BuzzFeed News the crackdown would reverberate far into the future.
"This is a high-profile way to send a message and to create more fear in immigrant communities about ICE and about their ability to live and work in this country," Sandweg said. "This burns an incredible amount of resources to apprehend people, few of whom pose any threat to the US. It's for show more than for anything else."
Families Belong Together Chair Jess Morales Rocketto released the following statement: "Today's massive immigration raid, which may very well have swept up American citizens and asylum seekers, was not executed in a vacuum. Dismantling our asylum laws, caging children, and separating families--all while El Paso mourns--is Trump's comprehensive white nationalist agenda in action. The raids are part of a broader strategy that is sadistic, cruel, and intentional, all in an effort to terrorize communities of color while scoring racist political points with his base."
©2019 New York Daily News
McClatchy-Tribune News Service